Information on this page is for customers in
Union Square to Portland Street Distribution Project
Why Are We Doing This Project?
This work supports a proposed electrical distribution upgrade, connecting the Prospect Street Substation in Somerville to the existing distribution network in Cambridge. The project is one of several designed to improve the reliability of the electric system serving Somerville, Cambridge and the surrounding area.
This work will not disrupt your electrical service.
Where Is This Work Being Done?
This project includes the installation of 20 new underground vaults (manholes), and new in-street duct banks (a group of tubes to house electric lines) spanning an approximately one-mile route along Prospect Street in Somerville and Cambridge, and Harvard and Portland Streets in Cambridge.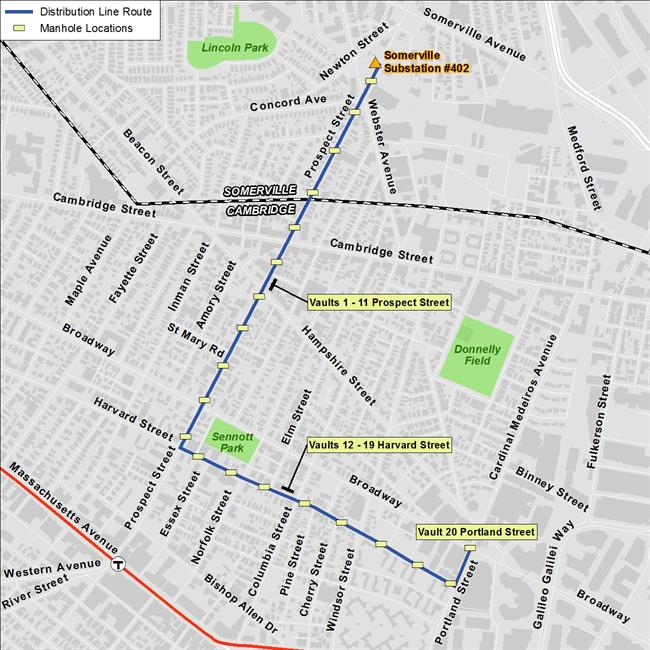 * Click to Enlarge
When Is The Work Being Done?
Generally, crews will be working at one location along the project route for 2 to 4 weeks before continuing. However, the duration of work is dependent on the number of existing utilities that crews encounter, and unforeseen events.
Start of Construction: August 2022
Projected completion date of street work: Second to third quarter 2023
*subject to change, pending necessary approvals
About This Project:
Route Length: Approximately one mile
Towns: Somerville and Cambridge
Start of Construction: August 2022
Traffic Management
We coordinate closely with municipal officials on effective traffic management throughout the project. At times, parking restrictions may be necessary and will be clearly posted in advance. Construction crews will occupy a portion of the roadway, typically leaving the remainder of the road passable to motorists, cyclists and pedestrians.
When detours are necessary signage will be clearly posted for motorists. Please monitor this web page for updates on traffic management.
Construction Updates
We're committed to keeping neighbors, businesses and community members informed on project activities during construction.
Project work is not expected to interrupt electric service to homes or businesses and all Eversource contractors carry proper identification.
Somerville
Week of May 22
Construction for the 2023 season began on Harvard Street near Portland Street heading toward Windsor Street in Cambridge. Please continue to check in for updates.
Cambridge
Week of May 22
Last construction season, crews began working along Prospect Street, Harvard Street and Portland Street to support an electric distribution upgrade. Crews have returned to resume these work activities. Work on Harvard Street is being closely coordinated with the City of Cambridge's Port Infrastructure Project – a water main replacement also located on Harvard Street.
On Harvard Street, between Boardman and Columbia streets, crews continue to install new underground duct banks (a group of tubes that house electric lines). Parking and lane restrictions will be necessary and clearly posted in advance.
On Harvard Street, between Columbia Street and Pine Street, crews will install a precast vault (manhole). Parking and lane restrictions will be necessary and clearly posted in advance.
Over the next few weeks, crews will also be conducting sidewalk restoration on Harvard Street. Parking and lane restrictions will be necessary and clearly posted in advance.
Daytime, in-street construction activities will occur between 7 a.m. and 4 p.m. Monday through Friday.
Steel road plates will be used to safely secure excavated areas at the end of each work shift.
As construction continues, the Police Department may modify the traffic management plans based on their judgement and expertise. This includes street closures and traffic detours to ensure public safety. Please exercise caution when approaching active work areas to minimize risks to personal safety and to avoid interfering with construction.
Once work in your area is complete, crews will temporarily pave sections of the road.
Have Questions?

Keeping the lines of communication open is an important part of our work in your community.
For more information about this project, please call the project information hotline at 1-833-836-0302 or email ProjectInfoMA@eversource.com.