Information on this page is for customers in
Springfield Underground Cable Modernization

Why Are We Doing This Project?
As part of our ongoing commitment to deliver reliable energy and superior service to our customers, we are proposing to replace existing 115-kilovolt (kV) high pressure fluid-filled (HPFF) underground transmission lines with new 115-kV cross-linked polyethylene (XLPE) transmission lines.
The existing 1544 and 1755 lines were installed in 1972 and are past their useful life expectancy. Replacing the existing HPFF with XLPE will modernize the existing transmission system and increase reliability.
Where Is This Work Being Done?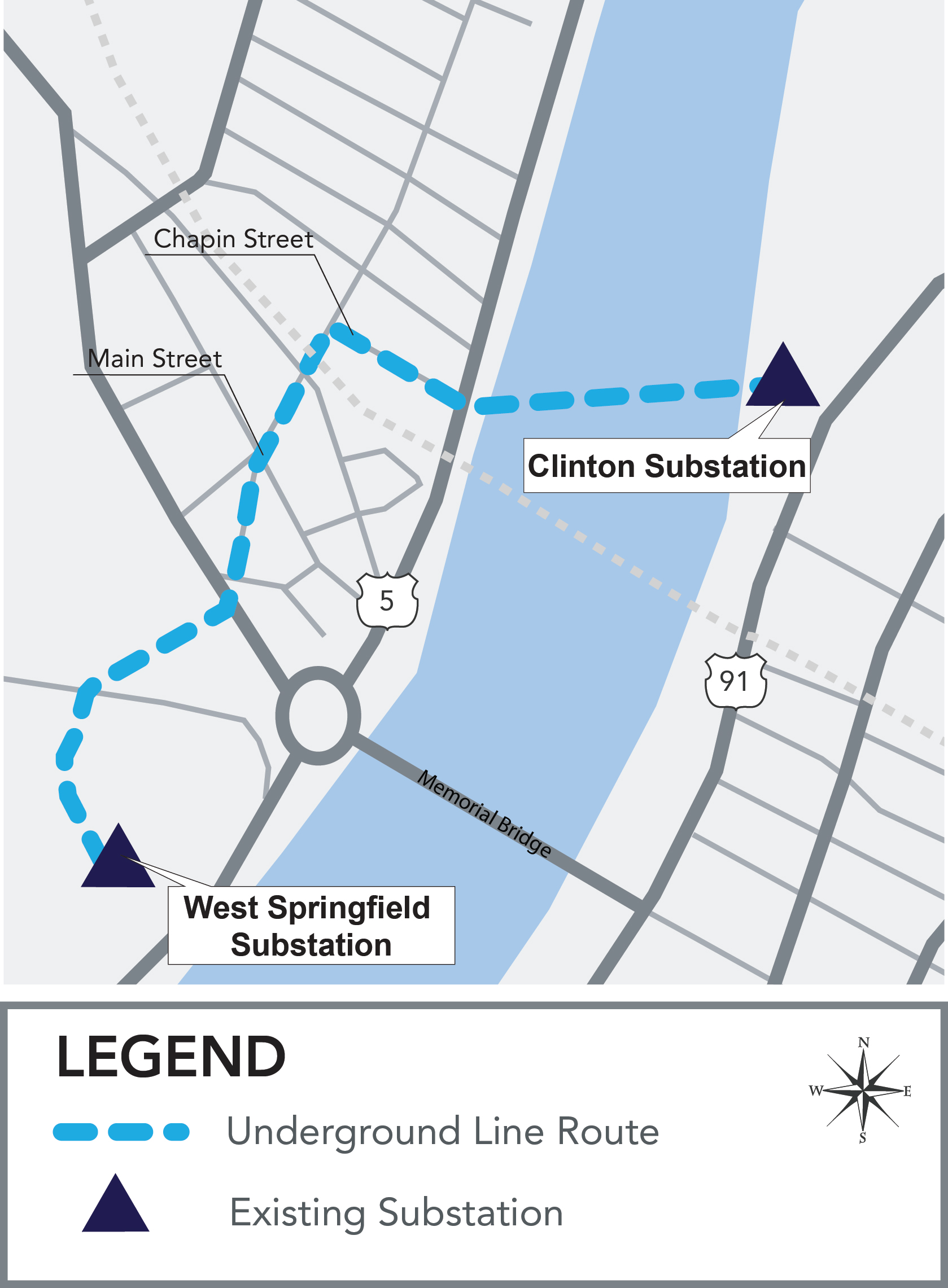 The proposed project is part of a larger program we are conducting throughout our service territory in Connecticut and Massachusetts related to underground cable modernization. This program is designed to modernize and increase the capacity of the existing underground transmission cable systems by replacing existing fluid-filled cable with cross-linked polyethylene cable.
In the Springfield and West Springfield area, one of the proposed projects includes the replacement of 1.1 miles of 115-kV HPFF underground electric transmission lines with XLPE underground cable connecting the existing Clinton and West Springfield substations.
To cross the Connecticut River, we are proposing to perform a horizontal directional drill (HDD) from a parking lot at the end of Chapin Street in West Springfield over to the Clinton Substation in Springfield across the river. HDD is a trenchless crossing by which the cables are installed under the riverbed. This form of installation is environmentally friendly and limits the impact to aquatic species.
When Is The Work Being Done?
Massachusetts Department of Public Utilities filing: Third quarter 2023
All permits received: Third quarter 2024
Start of construction: Third quarter 2024
Projected construction completion: Fourth quarter 2025
Commissioning and project restoration: First quarter 2026
*Subject to change, pending necessary approvals
About this project
Route length: 1.1 miles
Line voltage: 115 kilovolts (kV)
Siting review by: Massachusetts Department of Public Utilities (DPU)
Siting Review
This Project requires a Section 72 letter of non-determination (LND) from the Massachusetts Department of Public Utilities (DPU). We intend to submit its permit to the DPU in the third quarter of 2023. Environmental permits will also be required from local, state and federal agencies.
Community Outreach
We will continue to communicate with elected and local officials, residents, and businesses as we conduct these maintenance and reliability upgrades. We are committed to providing meaningful opportunities to participate in the project development process, and to incorporate local feedback into the project's development as feasible.
Have Questions?

Keeping the lines of communication open is an important part of our work in your community.
For more information about this project, please call the project information hotline at 1-833-836-0302 or email ProjectInfoMA@eversource.com.