Information on this page is for customers in
Martha's Vineyard Reliability and 91 Cable Replacement Projects
Project information is also available in Português Brasileiro.
Why Are We Doing These Projects?
Both of these new lines will interconnect to existing substations in the area and will bolster system capacity and reliability on Martha's Vineyard to meet growing energy needs.
These projects will also help facilitate our efforts to decrease our carbon footprint by decommissioning the five existing diesel generators on the Island.
Email updates
Sign up for regular updates about construction and community outreach in your area.
Sign up for Falmouth emails
Sign up for Martha's Vineyard emails
Where Is This Work Being Done?
Both projects will go through Falmouth and will come onshore to Martha's Vineyard in Oak Bluffs and Tisbury.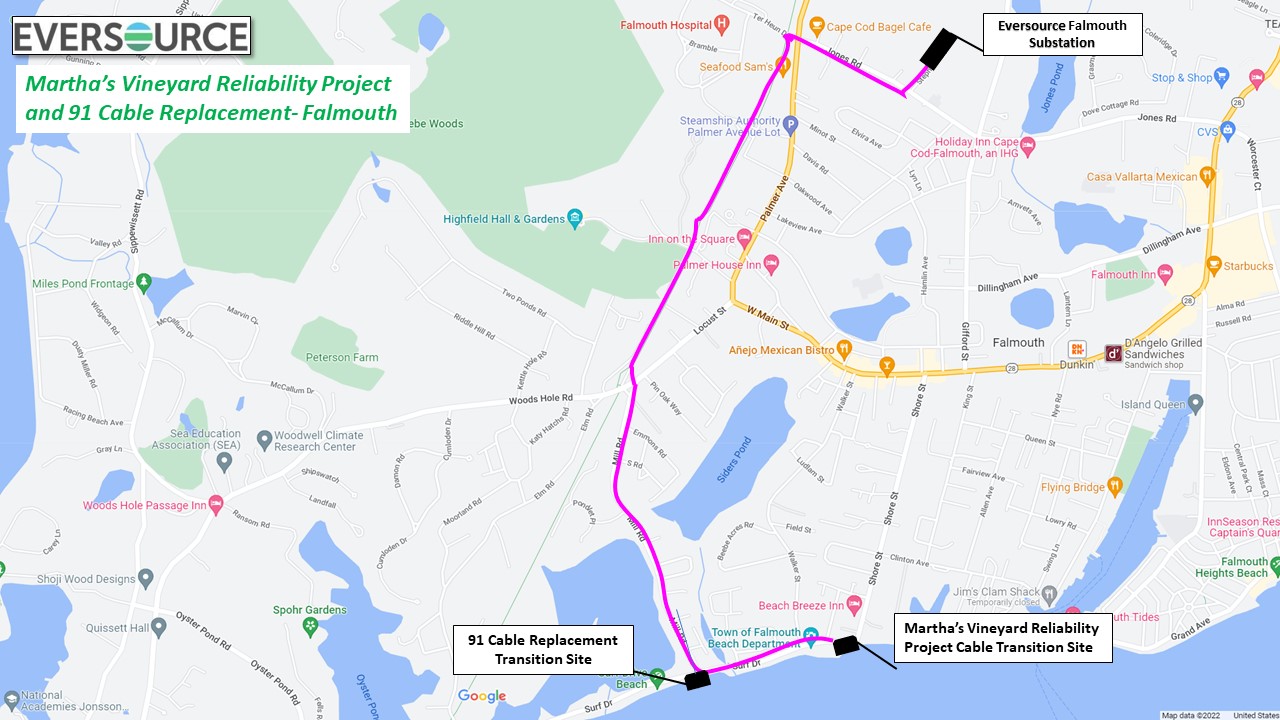 The work will be done in Falmouth and Martha's Vineyard (Tisbury and Oak Bluffs).
Martha's Vineyard Reliability Project
The proposed project will include the installation of a new 2.7-mile underground manhole (precast concrete vault) and duct bank system (a series of conduits that house electric cables).
The proposed route runs from the existing Falmouth Station on Stephens Lane to Jones Road, onto the Shining Sea Bikeway, down Mill Road to Surf Drive before transitioning in the Surf Drive parking lot to a submarine cable to cross Vineyard Sound.
The line will then travel 6.1 miles buried in the sea floor of Vineyard Sound before landing at East Chop, on Eastville Avenue where it will transition to onshore cables.
Once onshore, the line follows a new duct bank and manhole system along Eastville Avenue to an Eversource parcel.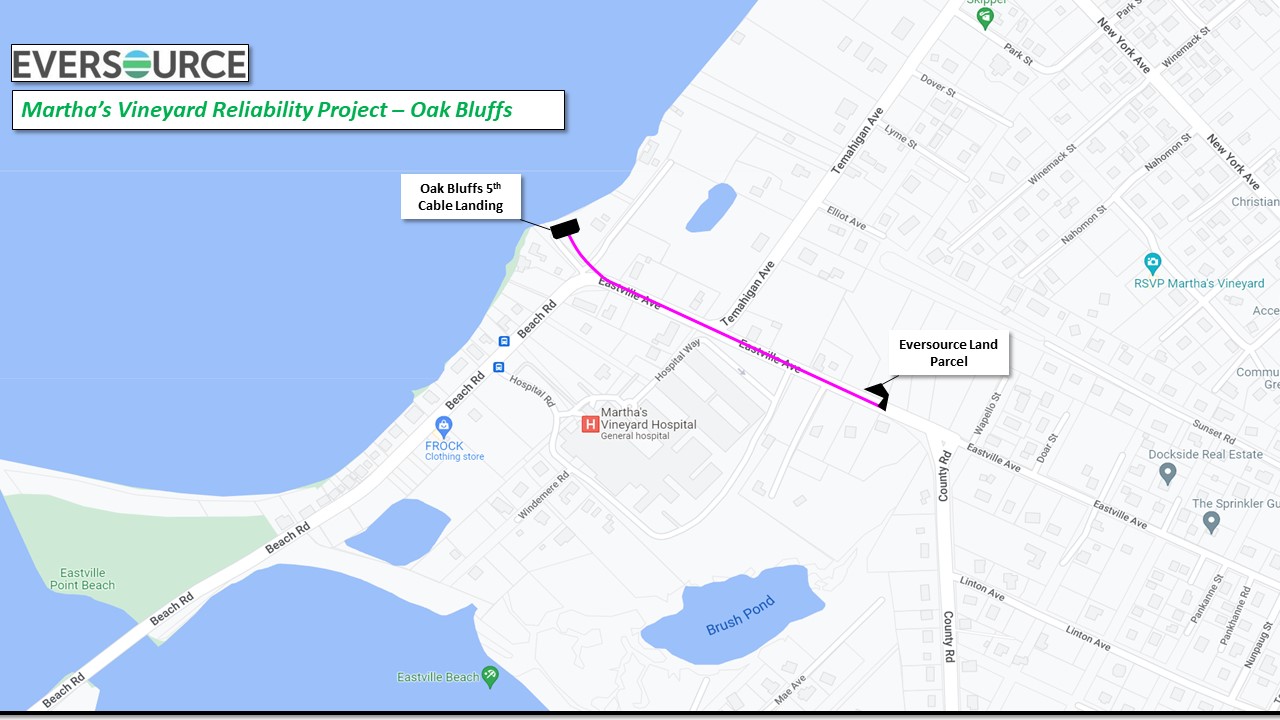 The project will also include upgrades to the Falmouth Substation to support the installation of the new line and the installation of six pad-mounted transformers at the Eastville parcel to facilitate distribution of the new electric line feeding the Island.
91 Cable Replacement Project
The proposed project will follow the same duct bank and manhole system as the Martha's Vineyard Reliability Project but will terminate at the Mill Road Parking Lot before transitioning to a 5.5-mile submarine cable to cross the Vineyard Sound and land at Eversource facilities in West Chop.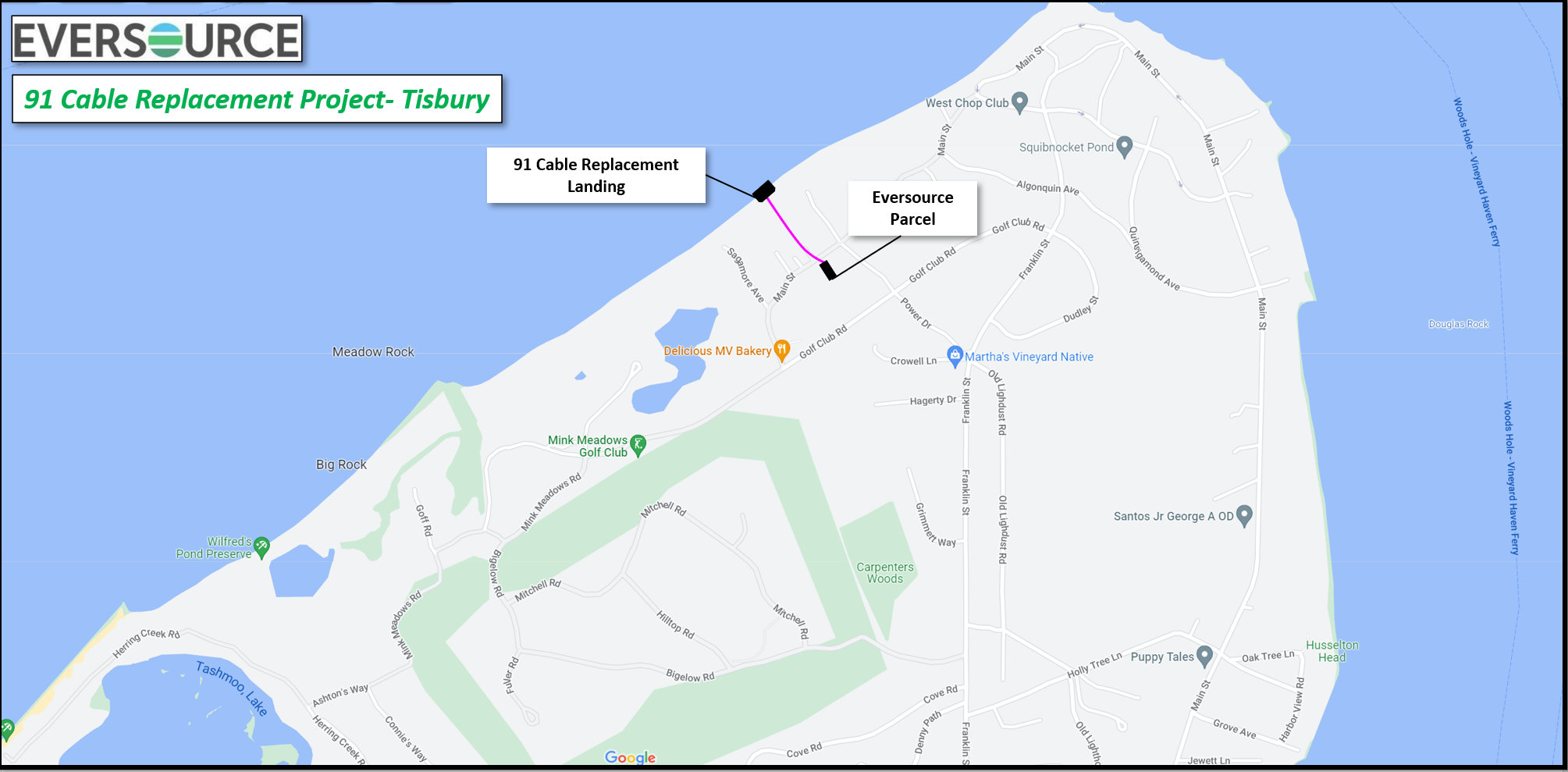 When is the Work Being Done?
Public Open Houses: Spring 2022
File Environmental Notification Form for review under the Massachusetts Environmental
Policy Act (MEPA): Projected May 2022
Start of Construction: December 2023
Estimated in-service date: Projected end of 2025
About These Projects
Martha's Vineyard Reliability Project
Falmouth: approx. 2.7-miles
Vineyard Sound: approx. 6.1-miles
Oak Bluffs: approx. 0.3-miles
Line voltage: 23kV
91 Cable Replacement Project
Falmouth: approx. 2.7-miles
Vineyard Sound: approx. 5.5-miles
Line Voltage: 23kV
Construction Updates
We are committed to keeping neighbors, businesses and community members informed on project activities during construction. The schedule may change due to weather or other unexpected circumstances.
We take every safety precaution while working in local communities, and all people working on the construction carry proper identification.
This work is not expected to interrupt electric service to homes or businesses.
Week of December 11
Next week, you may see crews:
Working with the Town of Falmouth on waterline service upgrades to homes along Jones Road and Bauer Lane. Activities associated with this work include saw cutting pavement, minor excavation to gain access to underground utilities, and temporary paving. Notifications will be provided to affected homes in advance of work. Brief temporary water shut-offs will be required in order to complete this work. Please follow local traffic detour to move safely around work zones. Please refer to the detour map below.
Approved work hours are 7 a.m. to 6 p.m., Monday to Friday. Occasional work may extend beyond the approved hours due to unforeseen circumstances, based on approval from municipal staff.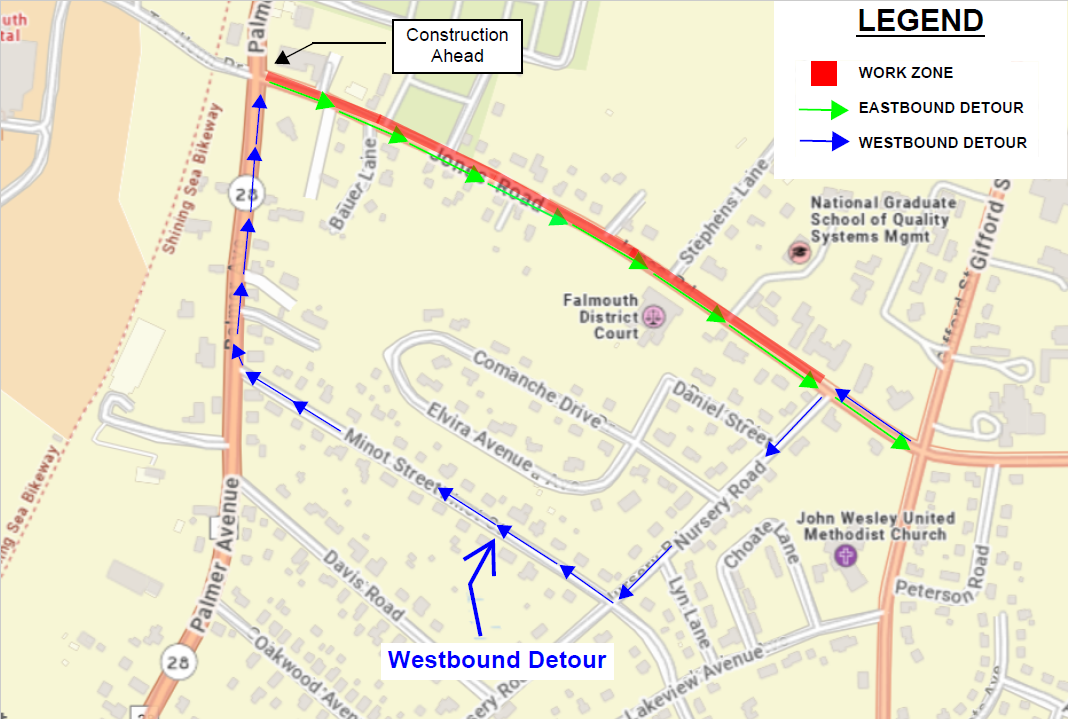 Community Outreach
We're committed to partnering with all community members, municipal leaders and other interested stakeholders to provide more information on the projects, gather feedback and answer any questions or concerns.
Public open houses were held both in-person and virtually in each host community in the Spring of 2022.
We continue to adhere to COVID-19 social distancing and other related health and safety guidelines.
Have Questions?

Keeping the lines of communication open is an important part of our work in your community.
For more information about this project, please call the project information hotline at 1-833-836-0302 or email ProjectInfoMA@eversource.com.