Information on this page is for customers in
Geothermal Pilot Project in Framingham
Why Are We Doing This Project?
We're committed to delivering New England's vision of a clean energy future and determining if networked geothermal systems are a viable option to affordably heat and cool homes and businesses.
A geothermal system uses water, wells, piping and pumps to pull the earth's heat out of the ground to warm buildings in winter and pumps heat from buildings back into the ground in summer to cool them.
It is renewable energy that comes from the sun's rays and temperatures produced in the earth's core. This energy can be used to heat and cool indoor spaces and produce hot water in conjunction with geothermal heat pumps.
Where Is The Work Being Done
A Framingham neighborhood with a mix of residential and commercial customers will be the site of the pilot project and the size and scope of the project will depend on the level of interest and eligibility. The technology may be expanded elsewhere based on the outcome of the pilot.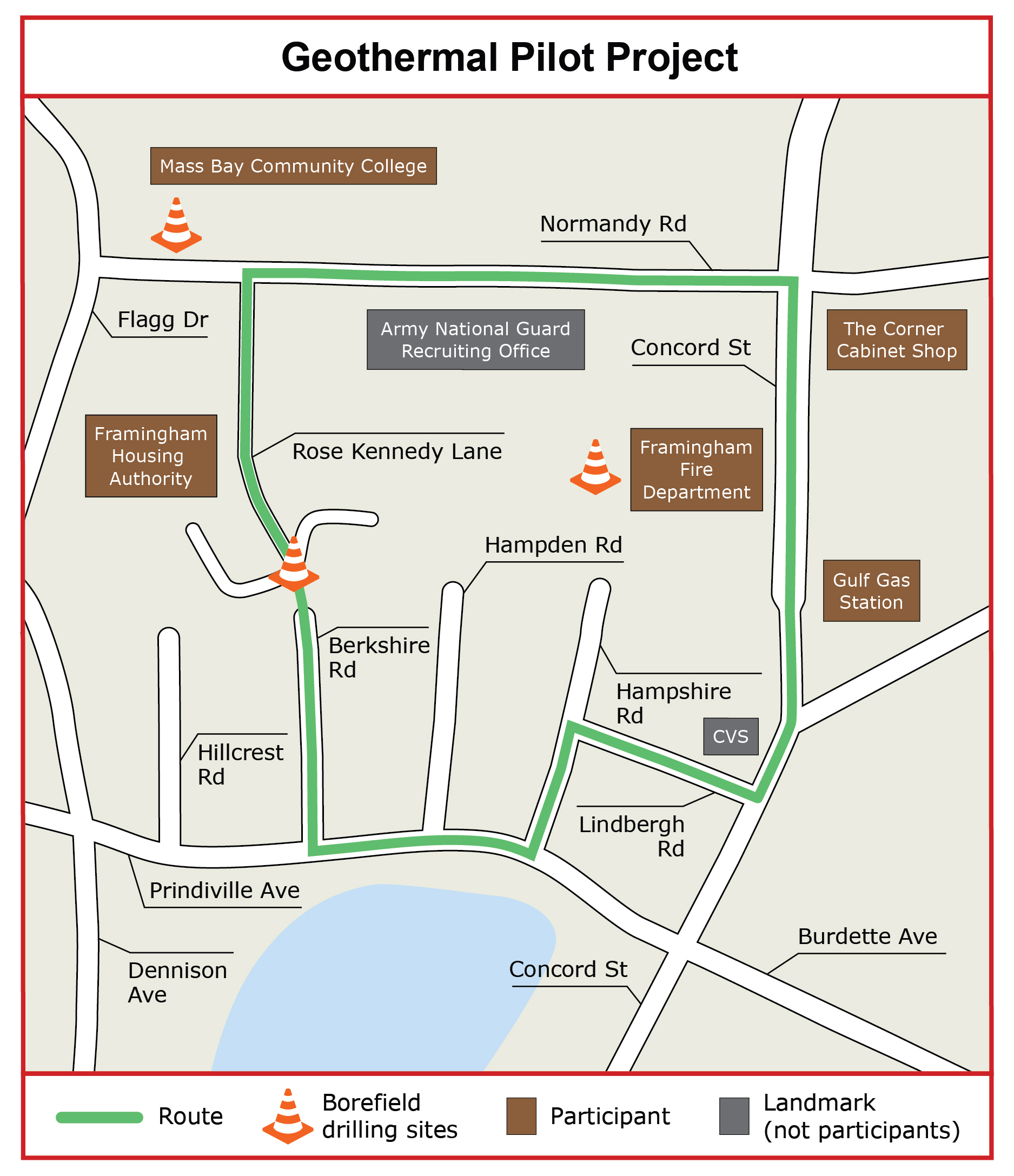 What Work Will Be Done?
There will be three parallel stages:
Drill well fields
Install main in the street/install service "Ts" for individual homes/buildings
Work in customers' homes.
Each is not dependent on the other, but all three must be complete prior to starting up the network.
When Is The Work Being Done?
Project design, completion target of February 2023 - In progress
Requesting proposals for construction work - In progress
City of Framingham storm water permitting - In progress
Electrical design, best plan for powering the networked system - Complete
Test well borehole drilling, thermal capacity test results determined viability - Complete
Begin construction - Expected April/May 2023, target completion September
Construction Updates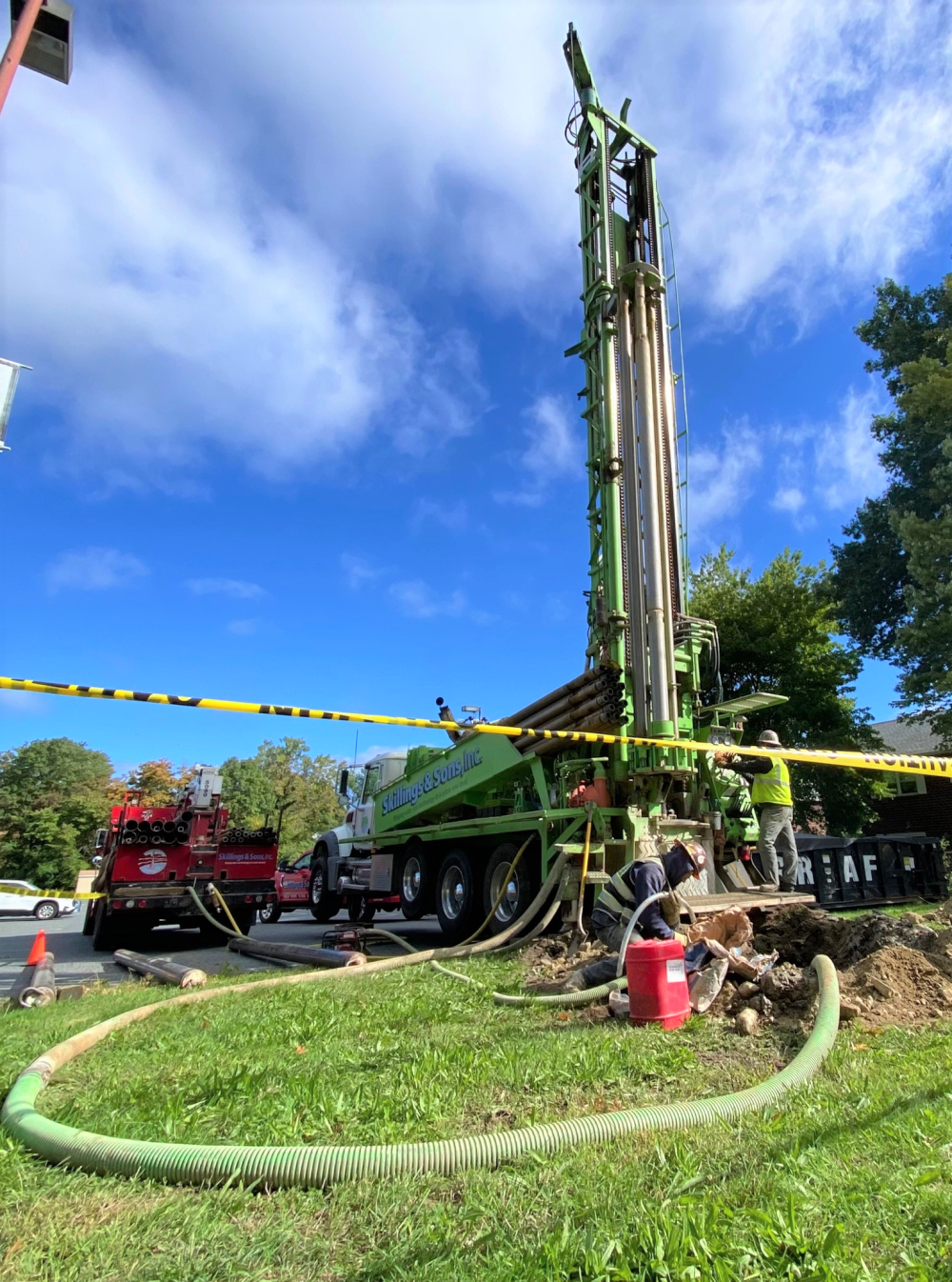 Test boreholes were drilled at three locations along the pilot route in September:
Outside the fire station on Concord Street near Normandy Road
On Rose Kennedy Lane inside the Framingham Housing Authority complex
In Farley Parking Lot on the Mass Bay Community College campus on Normandy Road
The tests helped us determine how much heat we can put in and take out of the ground with our networked system.
The results of these tests confirmed that each location was viable for full construction drilling. Additionally, the results are helping us evaluate the accuracy of our thermal capacity models and values so we can size the system appropriately moving forward.
Community Outreach
We're committed to engaging municipal officials, residents, businesses, community groups and neighbors about upcoming project activities.
Our efforts have included municipal briefings, direct mailings, on-site and virtual meetings, door-to-door outreach, and participation in community events. You can read more updates in the most recent geothermal email.
Featured Outreach: Framingham Earth Day Festival at Framingham Centre Common on April 23, 2022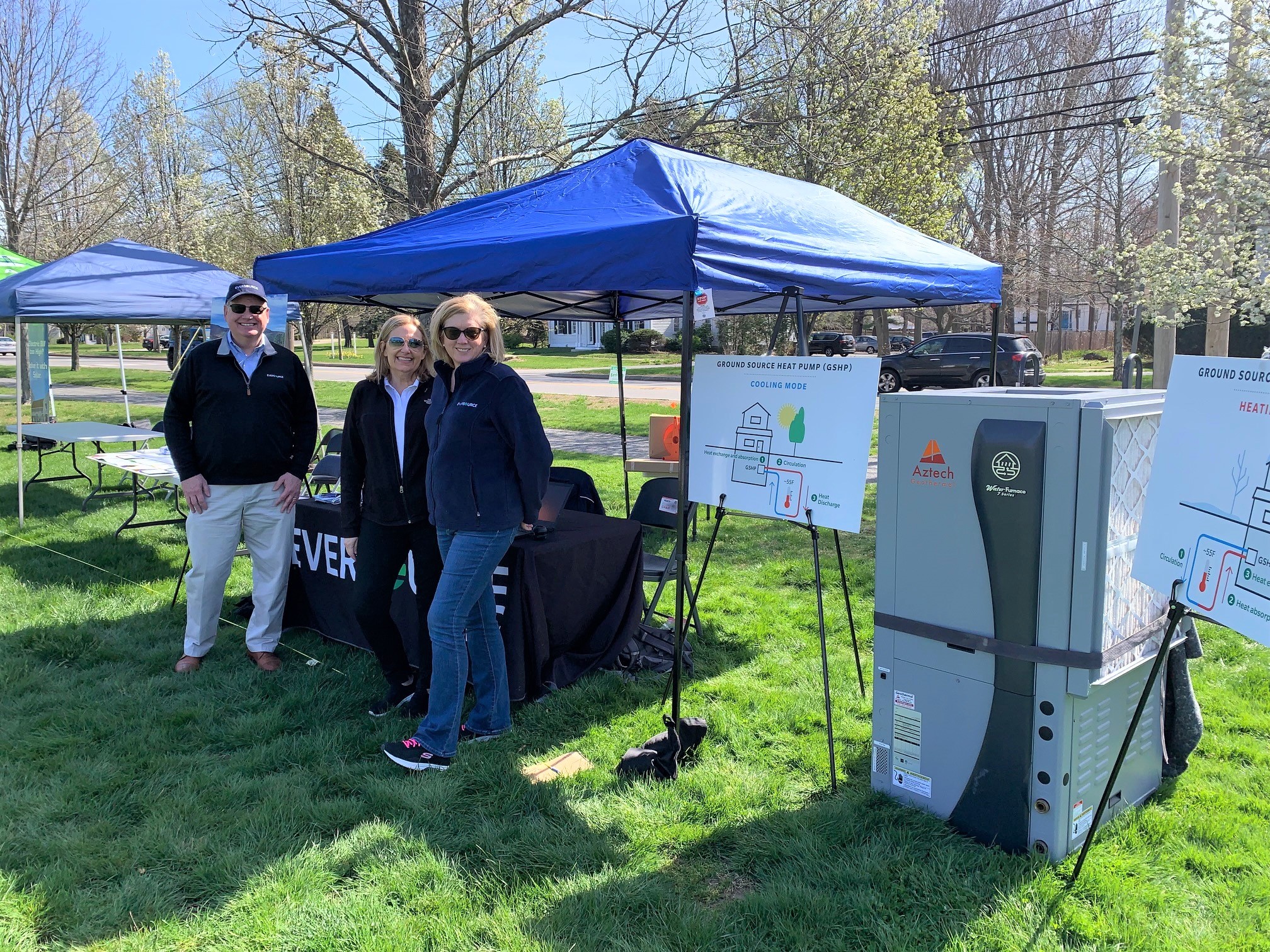 Our geothermal pilot team met with a steady crowd of festival attendees who were interested in and excited about the networked geothermal pilot.
Visitors to our booth had the opportunity to take a closer look at the true-to-size heat pump model, our animated video explaining geothermal technology and our pilot, and kids and families enjoyed the Eversource globe squeeze balls they could take home with them.
Past events include:
Customer Meeting at Fuller Middle School in Framingham on April 13, 2022 - Information session where we connected with potential pilot participants who own homes or businesses along our proposed project routes.
Westborough Energy Fair at Mill Pond School on April 30, 2022 - We engaged with students and community members as enthusiastic about renewable energy technology as we are.
Framingham "Cooler Communities" event at Harmony Grove Elementary School on May 21, 2022 - We showed fourth graders that it can be "cool" to be involved in energy, especially when talking about home heating and cooling.
Have questions about the geothermal pilot?
If you have questions about the pilot or would like to receive regular updates, please email geothermal@eversource.com.