Information on this page is for customers in
Carver to Kingston Reliability Project
Why Are We Doing This Project?
This upgrade is one of a group of projects designed to improve the reliability of the electric system serving southeastern Massachusetts, both today and in the future.
Where Is This Work Being Done?
This new 115-kilovolt (kV) transmission line has been constructed between our Carver and Kingston substations.
The line runs approximately eight miles within a right of way (power line corridor), passing through portions of Carver, Plympton, and Kingston.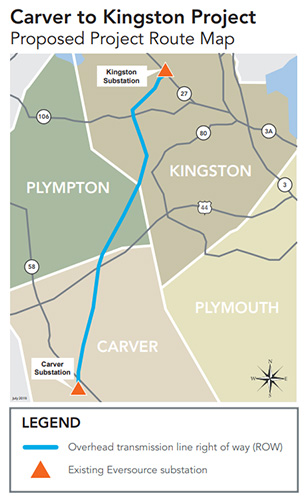 * Click to Enlarge
When Is The Work Being Done?

Start of construction: First Quarter 2022
In-service date: August 11, 2023
About this project
Route length: 8 miles
Line voltage: 115,000-volt (115-kV) transmission line
Siting review by: DPU
Siting Review
The Massachusetts DPU granted approval to construct and operate the proposed transmission line as part of the regulatory review process defined by Massachusetts state statutes.
As a part of the evidentiary process, the DPU hosted a public comment hearing on October 27, 2020. See the presentation from this hearing.
Community Outreach
We're committed to engaging city officials, residents, businesses, community groups and other stakeholders about project activities through municipal briefings, mailings, virtual meetings and door-to-door outreach.
We continue to engage in outreach efforts as the we move into the construction restoration and vegetation management phase of the project. We anticipate completing our commitments by the end of fall 2023.
Have Questions?

Keeping the lines of communication open is an important part of our work in your community.
For more information about this project, please call the project information hotline at 1-833-836-0302 or email ProjectInfoMA@eversource.com.