Information on this page is for customers in
Norwalk Bridge Transmission Relocation Project
Why Are We Doing This Project?
Connecticut Department of Transportation (CDOT) has announced plans to rebuild the Walk Bridge over the Norwalk River, ensuring continued railroad operation along the vital Northeast rail corridor.
We must relocate and energize two electric lines that span the top of the bridge as part of the rebuilding.
This work is necessary to help keep the power flowing in Norwalk.
Where Is The Work Being Done?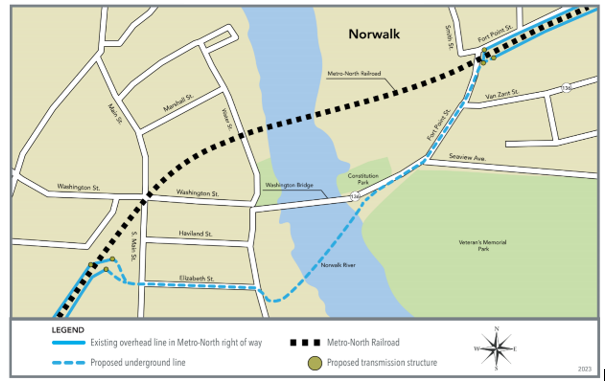 We have been working with Norwalk officials, CDOT and other stakeholders since 2016 to develop a route that meets all required electrical reliability standards, limits environmental and community impacts, and can be built at a reasonable cost. Several potential routes for the relocation of the lines were reviewed.
The proposed route has the two existing lines exiting the railroad corridor at the Norwalk Police Department and transitioning to underground cable beneath the Police Station parking lot and Elizabeth Street.
From Water Street, we would place the lines under the Norwalk River. The lines would then continue underground in Veteran's Memorial Park in the area of the park entrance off Fort Point Street.
The cables would continue beneath Fort Point Street, where they would reconnect to the rail corridor in the vicinity of the Fort Point Bridge.
We intend to realign the Fort Point Street entrance with Goldstein Place as part of the project's restoration process and in keeping with the Veteran's Memorial Park long-term development plan.
When Is The Work Being Done?
File petition with the Connecticut Siting Council: February 17, 2023
File environmental permits with CT DEEP: June 2023
Advanced utility work: August through October 2023
Begin transmission line construction: Fourth Quarter 2023
Complete construction: First Quarter 2025
Complete restoration: First Quarter 2025
About this project
Route length: Approximately 0.75 miles
Line voltage: 115,000 volt (115-kV) underground transmission lines
Siting review: Connecticut Siting Council
Environmental permitting: Connecticut Department of Energy & Environmental Protection (CT DEEP) and U.S. Army Corps of Engineers
Construction Updates
Elizabeth St Waterline Relocation
As part of this project, an existing water line that runs underneath Elizabeth Street needs to be relocated within the street to facilitate the installation of the new underground electric transmission lines. While the water line is operated by South Norwalk Electric and Water (SNEW), Eversource, through its contactors, will be performing this work.
Beginning in August, construction for the waterline relocation will take place on Elizabeth Street between South Main Street and Water St. These activities will include:
Setting up work zones and traffic detours, including the closure of on-street parking spaces near the work areas.
Saw cutting pavement, excavating, and removing rock.
Installing new sections of water line.
Pouring concrete, backfilling trenches with gravel, and covering open surfaces with temporary pavement patches and/or steel plates.
Typical work hours are Monday through Friday from 7 a.m. to 4 p.m. Occasionally, crews may need to work outside these timeframes or at night in accordance with traffic management plans or other requirements. We expect this water line relocation work to be complete by the first week of November; however, the timeframe can change based on weather, subsurface conditions, and other circumstances.
Communications and Community Outreach
We have made a concerted effort to engage town officials, residents, businesses and other stakeholders to inform, answer questions and listen to concerns about the project, beginning with municipal briefings and community outreach efforts.
A public open house was held on November 13, 2018, at the Norwalk City Hall Community Room to share information about the project. Residents and businesses had an opportunity to ask questions and provide feedback.
As the proposed project proceeds through the siting and permitting process, we will continue to keep you informed.
Have Questions?
Keeping the lines of communication open is an important part of our work in your community.
For questions or more information about the project, please contact us at 1-800-793-2202 or ProjectInfo@eversource.com.