Information on this page is for customers in
Geothermal Pilot Project in Framingham
Why Are We Doing This Project?
We're committed to delivering New England's vision of a clean energy future and determining if networked geothermal systems are a viable option to affordably heat and cool homes and businesses.
A geothermal system uses water, wells, piping and pumps to pull the earth's heat out of the ground to warm buildings in winter and pumps heat from buildings back into the ground in summer to cool them.
It is renewable energy that comes from the sun's rays and temperatures produced in the earth's core. This energy can be used to heat and cool indoor spaces and produce hot water in conjunction with geothermal heat pumps.
Where Is The Work Being Done
The route is a neighborhood in Framingham consisting of 37 buildings – 32 residential and five commercial – for a total of 140 customers. The technology may be expanded elsewhere based on the outcome of the pilot.
Learn more about the program and what participating customers receive.
Watch our virtual tour of where we'll be working in the neighborhood that will host this first-of-its-kind networked geothermal project.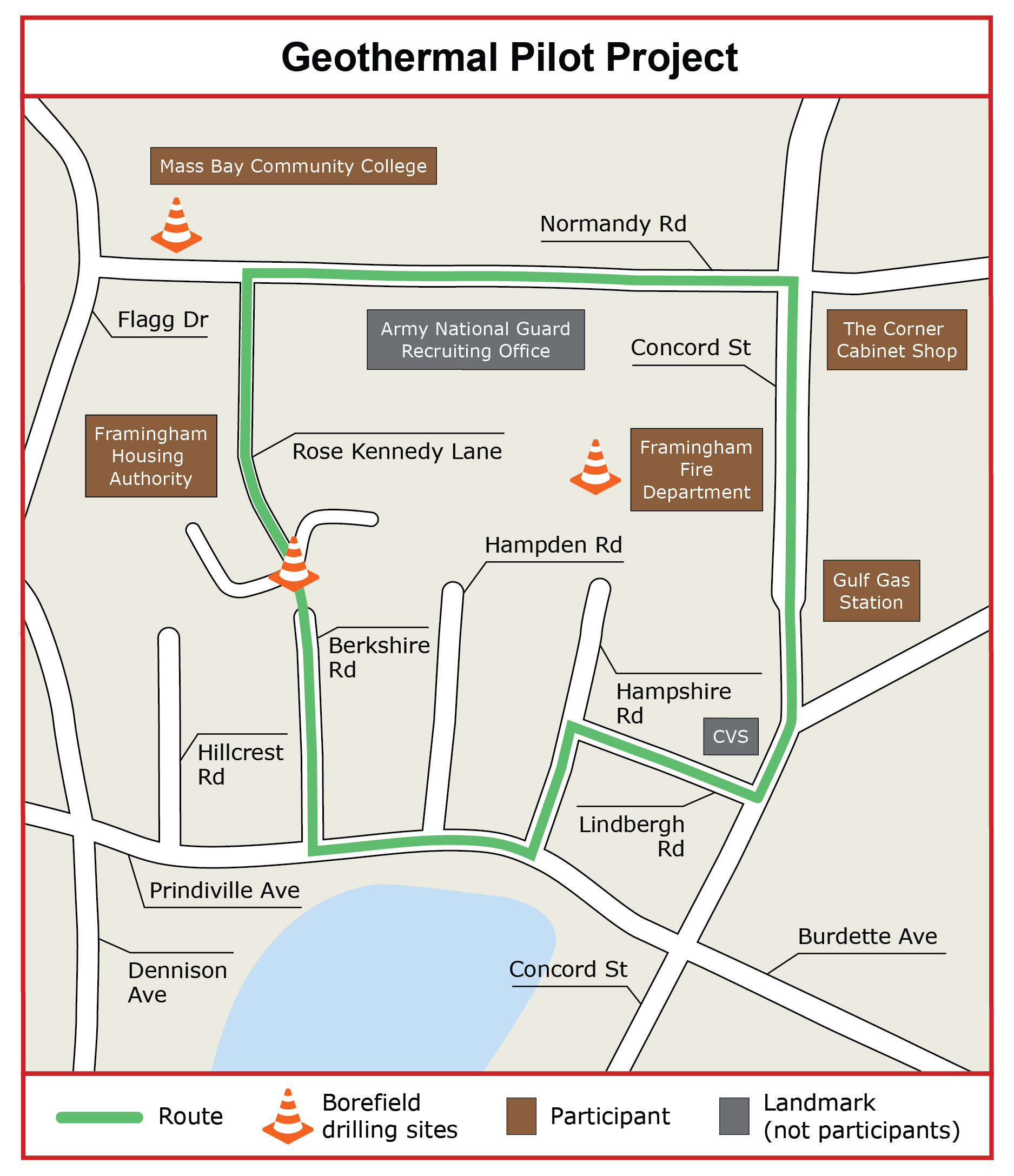 What Work Will Be Done?
There will be three parallel stages:
Drill borefields
Install main in the street/install service "Ts" for individual homes/buildings
Work in customers' homes.
Each is not dependent on the other, but all three must be complete prior to starting up the network.
When Is The Work Being Done?
Project design - Complete
Electrical design (best plan for powering the networked system) - Complete
Requesting proposals for construction work - Complete
Working with City of Framingham on permitting - Complete
Test borehole drilling, thermal capacity (test results determined viability) - Complete
Begin construction - June 2023, target completion October
Construction Updates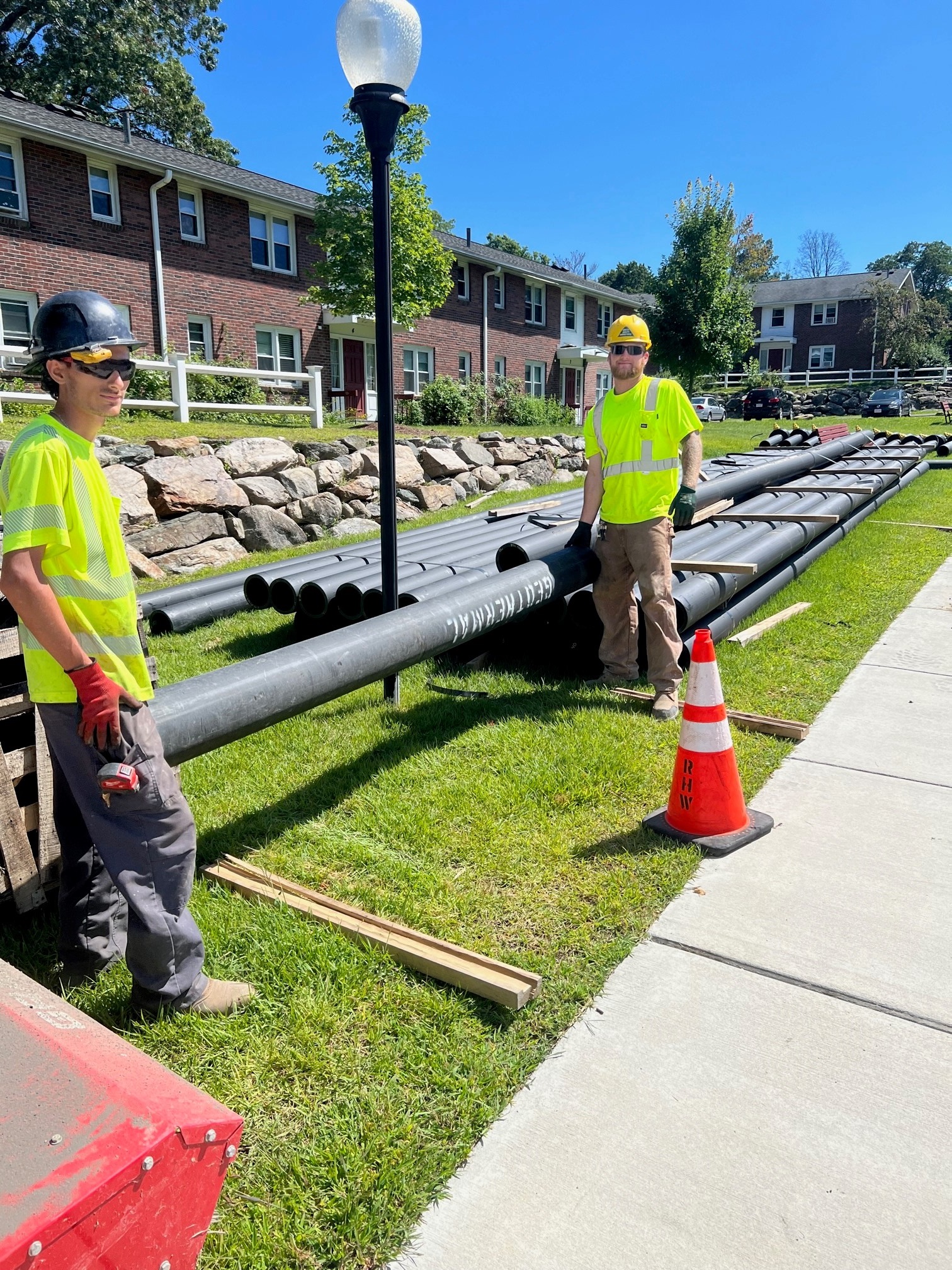 September 2023
We have completed approximately 70% of main pipe installation on our pilot route and are currently working on installation on Berkshire Road, Rose Kennedy Lane, and Concord Street. Borehole drilling continues at both Farley Lot (MassBay Community College on Normandy Road) and the Framingham fire station on Concord Street. Drilling is expected to continue through November. Pre-construction customer home visits have begun. We expect to begin scheduling in-home construction/system conversion in the coming weeks.
August 2023
Main installation in the streets along the pilot route has surpassed 50% completion. Installation on Concord Street will start soon between Normandy Road and the fire station. Due to its heavy traffic pattern, drivers should expect delays on Concord St. while construction is under way in the area. Drilling for the borefields at the fire station on Concord Street and Farley Lot on Normandy Road has begun. About 90 boreholes, in total, will be drilled 600+ feet vertically to circulate the Earth's consistent temperature throughout the pilot neighborhood. We expect to complete the loop installation and borefields in October.
July 2023
Main installation continues along the pilot route. Prep and grading of the Farley Lot at MassBay Community College will begin this month. We expect to begin borehole drilling in the parking lot in early August and complete the drilling work before September. A dedicated second crew will be working on Concord Street due to its busy traffic pattern.
June 2023
Construction for main pipe installation began. The first street completed was Lindbergh Road; we will continue installing main along the pilot route side streets throughout July.
May 2023
RH White Construction has been named as the contractor for the project.
Eversource and RH White have a strong history of working together on complex projects across multiple business areas.
Their extensive experience with plastic pipe installations will help to ensure the project is completed efficiently and to the highest quality
September 2022
Test boreholes were drilled in three locations along the pilot route. These tests helped us determine how much heat we can put in and take out of the ground with our networked system and confirmed each location was viable for full construction drilling.
Community Outreach
We're committed to engaging municipal officials, residents, businesses, community groups and neighbors about upcoming project activities.
Our efforts have included municipal briefings, direct mailings, on-site and virtual meetings, door-to-door outreach, and participation in community events. You can read more updates in the most recent geothermal email.
Featured Outreach: Community Partner and team hold 'open house' info tent sessions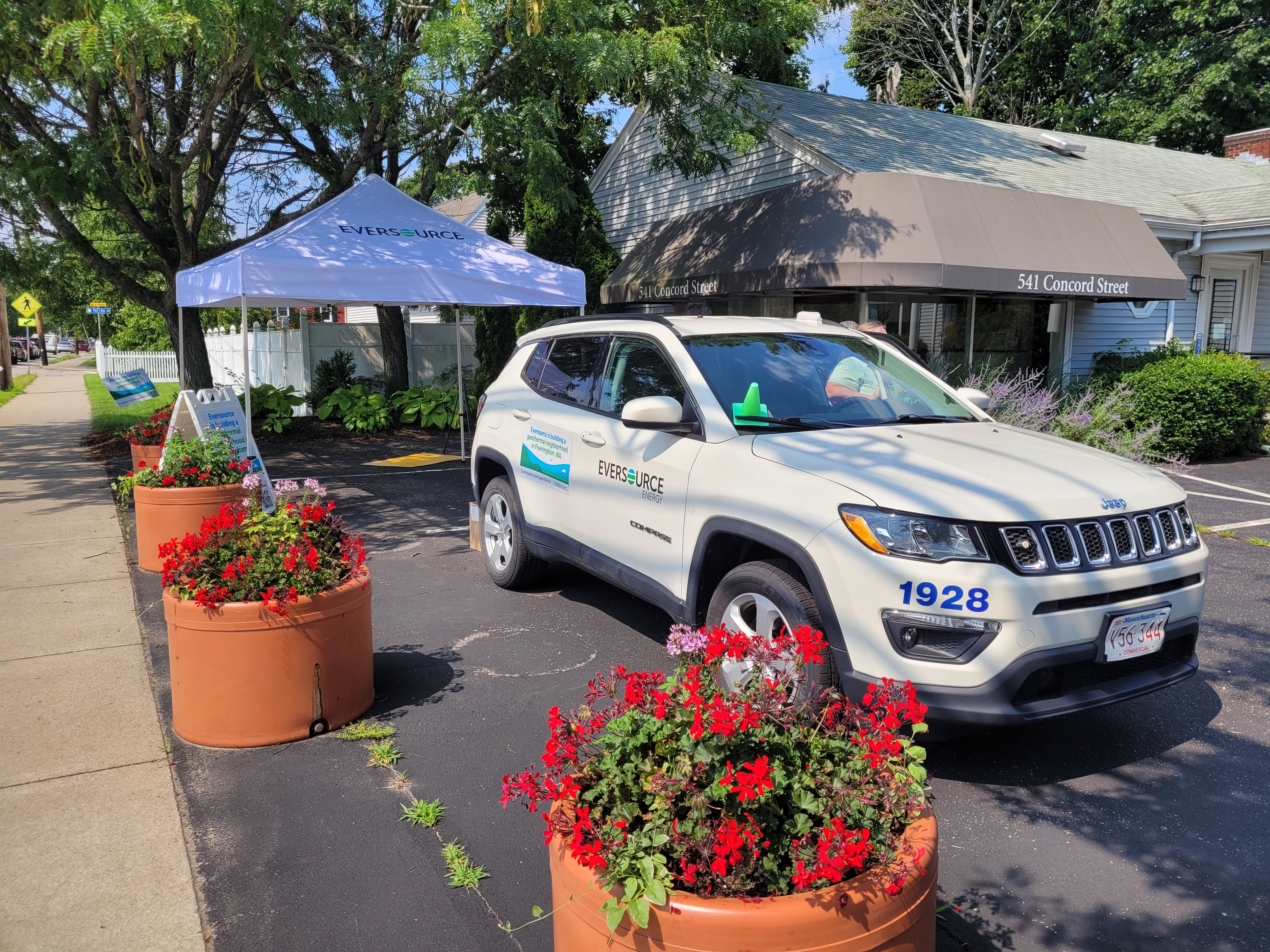 Starting in early July, our Geothermal Community Partner, Cindy Galvin, began hosting weekly 'open houses' under an Eversource tent temporarily raised at The Corner Cabinet shop on Concord Street. Members of the public were encouraged to stop by with any questions regarding the pilot. So far, Cindy has met with several curious residents from outside the pilot route and even a realtor whose focus is sustainable homes in the state. Cindy will be at The Corner Cabinet at 541 Concord Street every Wednesday (weather dependent) from 3 to 6 p.m. Members of the public and participating customers are welcome to stop by with any questions.
Other past events include:
Turtle Tunnels installed and fencing relocated in June 2023 – As part of our construction preparation, our team was required to install a silt fence near the construction zone to mitigate any environmental impact. However, shortly after install, neighbors told us the fence was hindering the movement of local wildlife – especially turtles coming out of Gleason Pond to lay eggs. With permission from the local conservation commission, we made adjustments to the fencing including building a 'turtle tunnel'. Neighbors in the area tell us the tunnel is working as intended.
Customer Pilot Preview Meeting at Framingham Housing Authority on June 24 – Our team provided participating customers with project updates including highlights from the groundbreaking event, details about upcoming in-home visits, our recent efforts to mitigate construction impact on local wildlife, and introduced them to their dedicated Eversource Community Partner.
Pilot Groundbreaking event on June 12 – We hosted state and local leaders, along with clean energy partners at MassBay Community College in Framingham for the groundbreaking of our geothermal pilot. The event marked the start of construction on this innovative project. Watch the full livestream event on Facebook.
Introduce a Girl to Engineering and Science at Fuller Middle School on March 2, 2023 - We partnered with the Fuller Middle School in Framingham to host a one- day program designed to encourage girls to explore the areas of engineering and science, and to help address the gender gap in the STEM fields.
Webinar on April 5, 2023 - Watch a recording of the webinar to hear the latest on the geothermal pilot.
Customer Meeting at Fuller Middle School in Framingham on April 13, 2022 - Information session where we connected with potential pilot participants who own homes or businesses along our proposed project routes.
Westborough Energy Fair at Mill Pond School on April 30, 2022 - We engaged with students and community members as enthusiastic about renewable energy technology as we are.
Framingham "Cooler Communities" event at Harmony Grove Elementary School on May 21, 2022 - We showed fourth graders that it can be "cool" to be involved in energy, especially when talking about home heating and cooling.
Framingham Earth Day Festival at Framingham Centre Common on April 23, 2022 - We met with and fielded questions from fair attendees interested in knowing more about the geothermal pilot project Eversource is building in their community.
Have questions about the geothermal pilot?
If you have questions about the pilot or would like to receive regular updates, please email geothermal@eversource.com.