Information on this page is for customers in
Rapid Pole
This innovative technology is helping us restore service quicker
What is a Rapid Pole?
The Rapid Pole is a new temporary mobile pole technology that helps crews restore power to customers in half the time.
The solution involves two new pieces of equipment:
A Rapid Pole
A Rapid Pole with a self-contained primary riser pole and pad mount transformer for generator back feed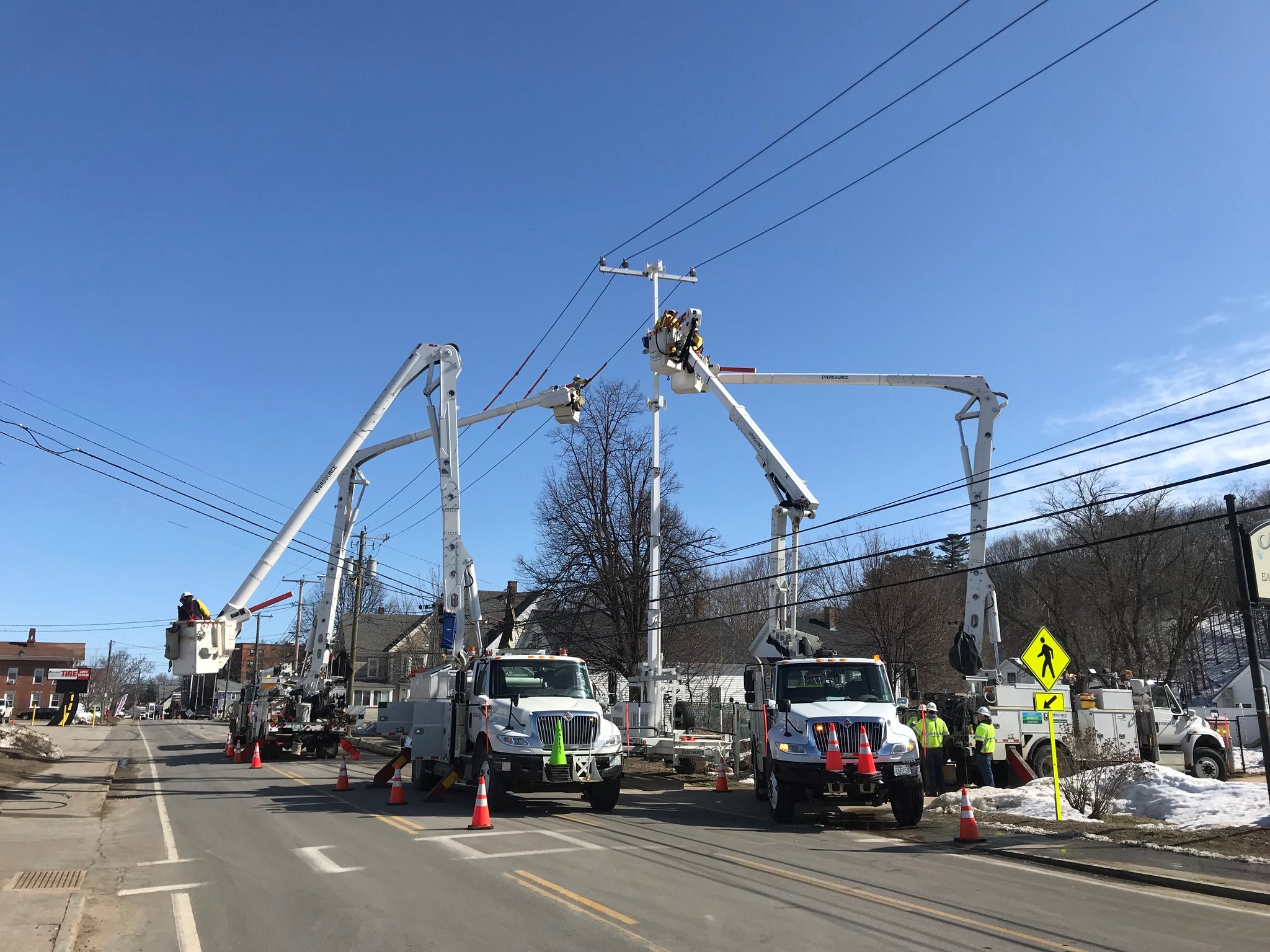 These tools can be set up and running in as few as 30 minutes.
The Rapid Pole is attached to a single axle tactical trailer designed to get to trouble spots quickly. The pole can telescope as high as 48 feet, and it is capable of holding up to 3,000 pounds of vertical weight.
The poles are battery-operated hydraulic units and release zero emissions, aligning with our environmental commitment to be carbon neutral by 2030. The pole and transformer feeds high voltage power back into the system.
The Rapid Pole prototypes have been in the works for more than two years. The idea came during an outage in a heat wave.
Damage to a pole in Milford, New Hampshire, knocked out power for about 400 customers with an estimated restoration time of 15 hours. As a work-around, crews built a temporary pole, ran high-voltage cables and brought in a generator.
The lights were back on in half the time. Once ready, crews installed a permanent pole and reconnected power. The mobile solution gave crews more time to complete system repairs while quickly restoring service.
As a result, we worked with a third-party vendor to design and manufacture the tools.
Using Rapid Pole Technology to Restore Power
December 2022
Crews utilized the Rapid Pole in New Hampshire to bring power to residents on Christmas Day after a powerful winter storm. At the time, Eversource had more than 200 broken poles in the state, and it was expected to be a long-duration outage.
"When the supervisor on scene called me to tell me the lights were on, he put me on speakerphone with a customer and she started crying she was so happy," said Tim McHugh, Electric Service Manager. "It felt great. The troubleshooters and everyone on site got a good idea of what this thing can do as far as restoring power quickly and safely."
February 2023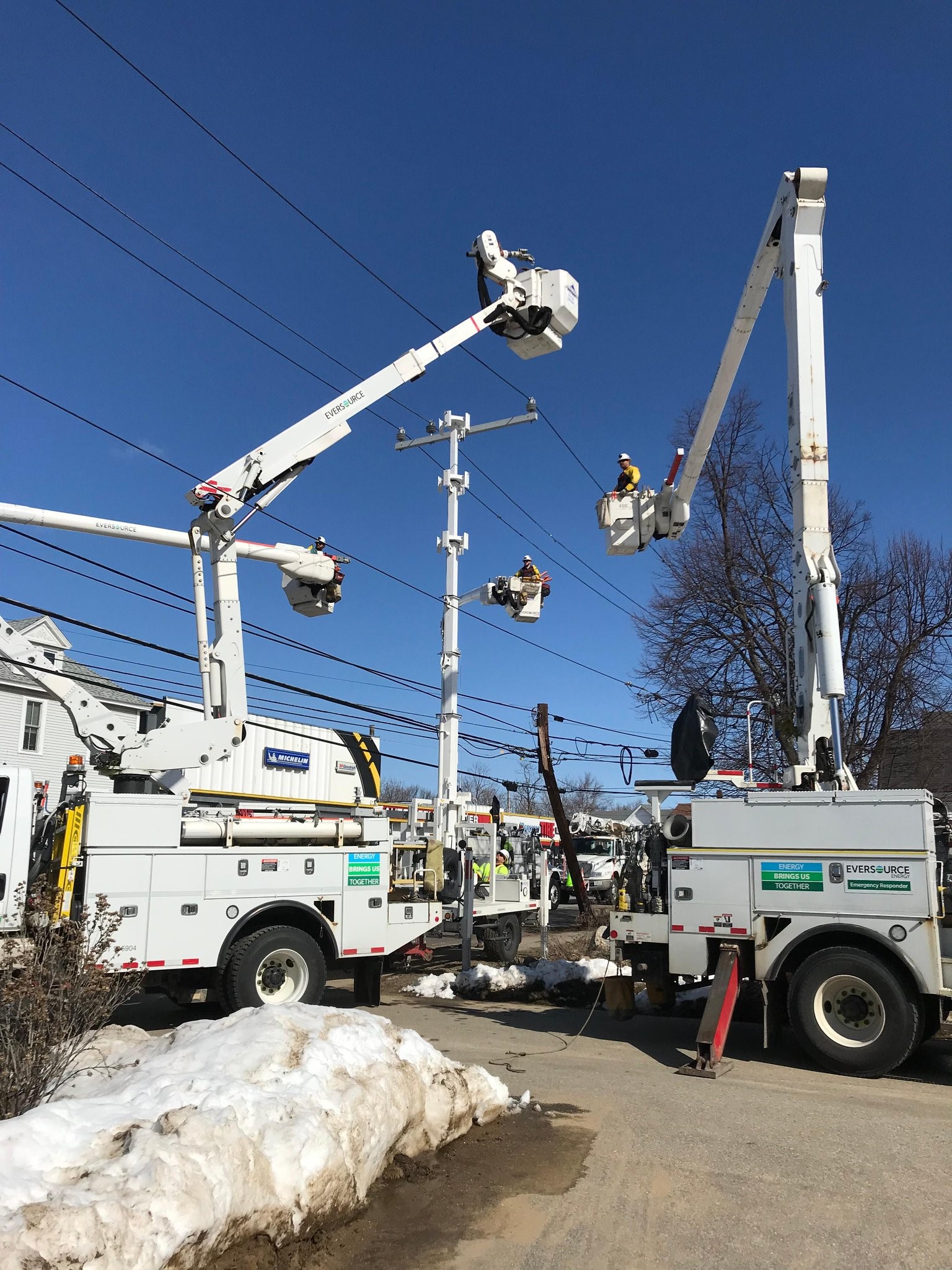 The Rapid Pole deployed for a broken pole and a 263-customer outage in Brentwood, New Hampshire.  Wire was secured and energized before pole replacement.
March 2023
Crews used the mobile transformer and primary riser on Route 9 in Sullivan, New Hampshire to restore power to hundreds of customers after heavy, wet snow brought down multiple large trees onto power lines, bringing down wires and breaking mutiple utility poles.
Crews deployed the Rapid Pole to temporarily bring power to 700 customers, including many businesses, in Laconia, New Hampshire after a driver crashed into a utility pole.
April 2023
The Rapid Pole was used to safely secure and raise the primary circuit while crews replaced a broken pole in Bristol, New Hampshire.

Crews used the mobile transformers and primary rise for a planned outage which brought the outage time from four hours to a duration of five minutes in Tilton, New Hampshire.