Information on this page is for customers in
Connecticut News
Eversource Collaborates on Statewide Electric Vehicle Charging Program
EV
EV Charging Stations
charging program
Energy company hosts webinars to help customers learn more about incentives and rebates available
BERLIN, Conn. – With a shared goal of reducing greenhouse gas emissions and advancing cleaner transportation across the state, Eversource is collaborating with the Public Utilities Regulatory Authority (PURA) and United Illuminating to roll out a statewide electric vehicle charging station installation program. Connecticut's Department of Energy and Environmental Protection is aiming to have 125,000 to 150,000 electric vehicles on state roads by 2025, which will require a robust network of charging stations. Developing the massive charging infrastructure needed to accomplish this is the focus of the program. To help customers understand the statewide Electric Vehicle Charging Program, which officially launched on January 1, 2022, the energy company is holding a series of webinars throughout the year.
"These webinars are an important part of our new program, to give customers valuable information about the incentives and rebates available to install a charging station," said Eversource Connecticut EV Lead Enoch Lenge. "The program is designed to make 'range anxiety' a thing of the past when traveling around the state. It features incentives for putting charging stations practically everywhere – single-family homes, corporate offices, public parking locations, multifamily buildings, new construction commercial sites and more."
No matter where a customer may be on their electric vehicle journey, the Eversource website has information to help including a list of approved chargers. Homeowners can take advantage of a charging station incentive package that includes:
A Level 2 "smart" charger which uses a 240-volt electric supply and can charge an electric vehicle up to nine times faster than a normal wall outlet
The wiring needed to complete its installation - Level 2 "smart" chargers require the same wiring as a clothes dryer or an electric stove to provide enough power to efficiently charge the vehicle
An incentive for participating in Eversource's ConnectedSolutions managed charging program, which rewards customers for using less energy during periods of peak demand
To get started, customers can follow this four-step approach.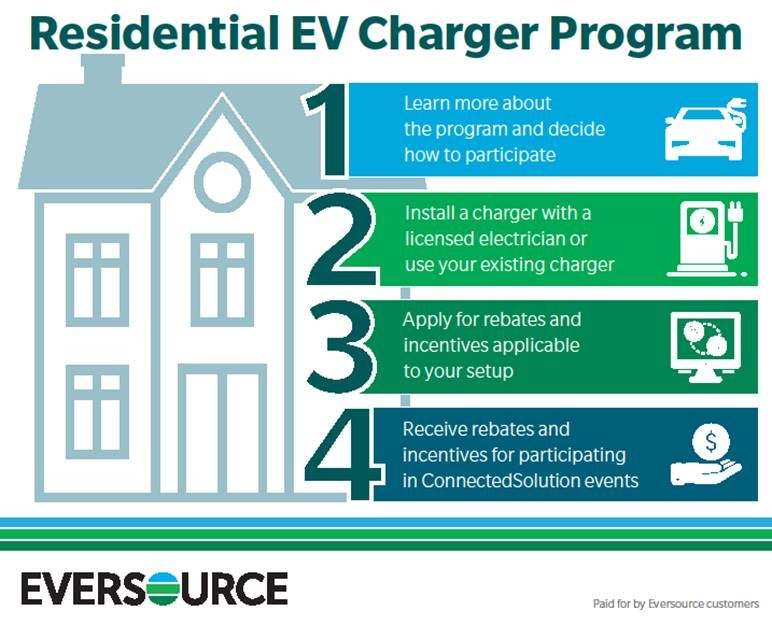 The program also offers rebates for some telematics or onboard vehicle communications systems. Telematics can help an electric vehicle to make smart decisions about energy use, connect to nationwide charger networks and do other innovative things.
"The state's car dealers are currently offering more than 40 different EV models. We're working closely with the dealerships, EV charger manufacturers and contractors - spreading the word about the technology, the incentives and rebates, and the webinars that are available," added Lenge.
The recording of our most recent webinar about electric vehicle charging at home provides helpful information on the details on the program and how to participate. Click here to see the complete calendar and to register for an upcoming webinar.
---
Eversource (NYSE: ES), celebrated as a national leader for its corporate citizenship, is the #1 energy company in Newsweek's list of America's Most Responsible Companies for 2021 and recognized as one of America's Most JUST Companies. Eversource transmits and delivers electricity to 1.27 million customers in 149 cities and towns, provides natural gas to 246,000 customers in 74 communities, and supplies water to approximately 216,000 customers in 52 communities across Connecticut. Eversource harnesses the commitment of approximately 9,300 employees across three states to build a single, united company around the mission of safely delivering reliable energy and water with superior customer service. The #1 energy efficiency provider in the nation, the company is empowering a clean energy future in the Northeast, with nationally-recognized energy efficiency solutions and successful programs to integrate new clean energy resources like solar, offshore wind, electric vehicles and battery storage, into the electric system. For more information, please visit eversource.com, and follow us on Twitter, Facebook, Instagram, and LinkedIn. For more information on our water services, visit aquarionwater.com.
MEDIA CONTACT:
Mitch Gross
(860) 665-5221
mitch.gross@eversource.com
# # #