Information on this page is for customers in
Seaport Transmission Line Relocation Project
Work on the Seaport Line Relocation Project is complete, with the exception of reflective striping on newly paved roads.
Striping will take place in the Spring of 2023.
We thank for your patience as we successfully completed this critical project.
Why Did We Do This Project?
The project will help support economic growth and ongoing redevelopment projects throughout the Boston Seaport district, including the long-planned reconfiguration of public streets like the new alignment of Northern Avenue.
This was in collaboration with local real estate firm WS Development, who asked us to relocate the underground transmission lines to allow for construction of new buildings.
Where Was The Work Done?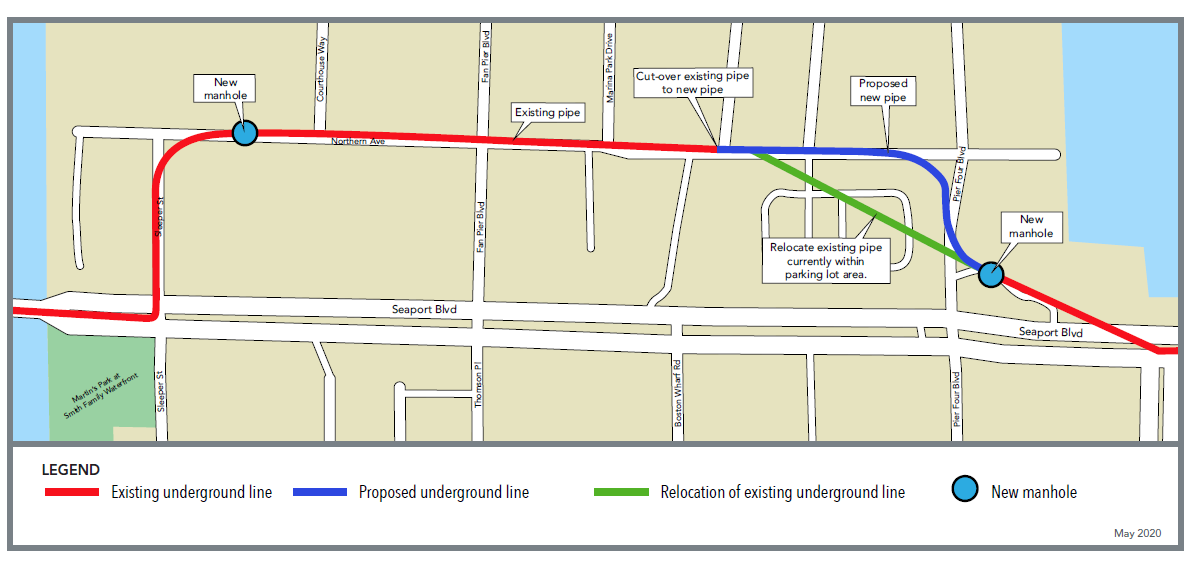 We relocated approximately 700 linear-feet of existing underground 115-kV transmission lines.
The location of the transmission lines beneath a parking lot have been relocated into new conduit and laid beneath the revised alignment of Northern Avenue.
When Was The Work Done?
Start of construction: September 2020
In-service date: February 2022
About this project
Route length: Approximately 700 linear-feet
Line voltage: 115,000-volt (115-kV) underground transmission line
Permits reviewed by: City of Boston
Have Questions?

Keeping the lines of communication open is an important part of our work in your community.
For more information about this project, please call the project information hotline at 1-833-836-0302 or email ProjectInfoMA@eversource.com.