Information on this page is for customers in
Planting Guidance for Business Owners
Our most important responsibility is the safety of our customers and the communities we serve. As part of that responsibility, we've put together information to help you select compatible vegetation when planting near power lines.
Why it's important to plan before you plant
Planting the right tree in the right place will help reduce power outages and ensure reliability. Before planting, consider what utilities you're near. Guidelines for trees and other vegetation vary widely for different types of utility lines—electric transmission lines, electric distribution lines and gas pipelines.
Planting near roadside distribution lines
Distribution lines are the power lines you see along roads and highways that deliver power to your home or business. When trees touch these lines, it can cause power outages, fires, downed lines and safety hazards for people and wildlife.
Tree branches too close to power lines must be trimmed, and adequate trimming can't always be done in ways that retain the natural aesthetics of the tree. We may even need to remove the tree. This is the last thing we want to do.
Planting guidelines
Before you plant, consider how close you are to distribution lines. The further away, the taller the tree can be.

Anywhere on your property
Trees and plants that won't grow to be greater than 25 feet high are safe to grow anywhere on your property. Need some ideas? We developed a guide with 30 recommended trees under 30 feet tall.
Download guide
15-30 feet from distribution lines
Trees maturing at heights of 30-45 feet should be planted 15-30 feet from power lines. Examples include ornamental pear, yellow wood, magnolia, hornbeam and shadblow.
30+ feet from distribution lines
Trees reaching heights of 45+ feet should be planted at least 30 feet from power lines. Examples include oak, maple, hickory, spruce and pine.
Planting near high-voltage transmission lines
Transmission lines are large, high-voltage lines that transport electricity over long distances. They're usually supported on tall metal towers, but sometimes on wooden poles, too. Interference from trees or other vegetation is not only dangerous, but can cause power outages for thousands of customers.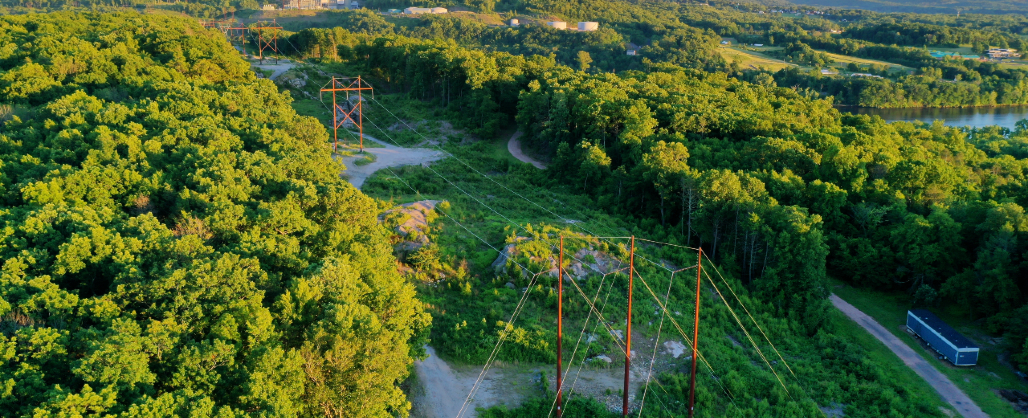 Federal, regional, and electric industry standards require minimum safety clearances to ensure that vegetation doesn't grow too close to these high-voltage lines. We regularly maintain cleared areas within right of way corridors to ensure safety and reliability.
Plants that encourage pollination
Looking for a safe plant with added environmental benefits? Our arborists are passionate about pollinator plants and the positive impact they can have on the environment.
We've gathered some of our favorite pollinator plants that thrive alongside power lines, enhance the natural beauty of the landscape and support the return of a variety of species of wildlife.