Information on this page is for customers in
Employee Spotlight: Tim Vernon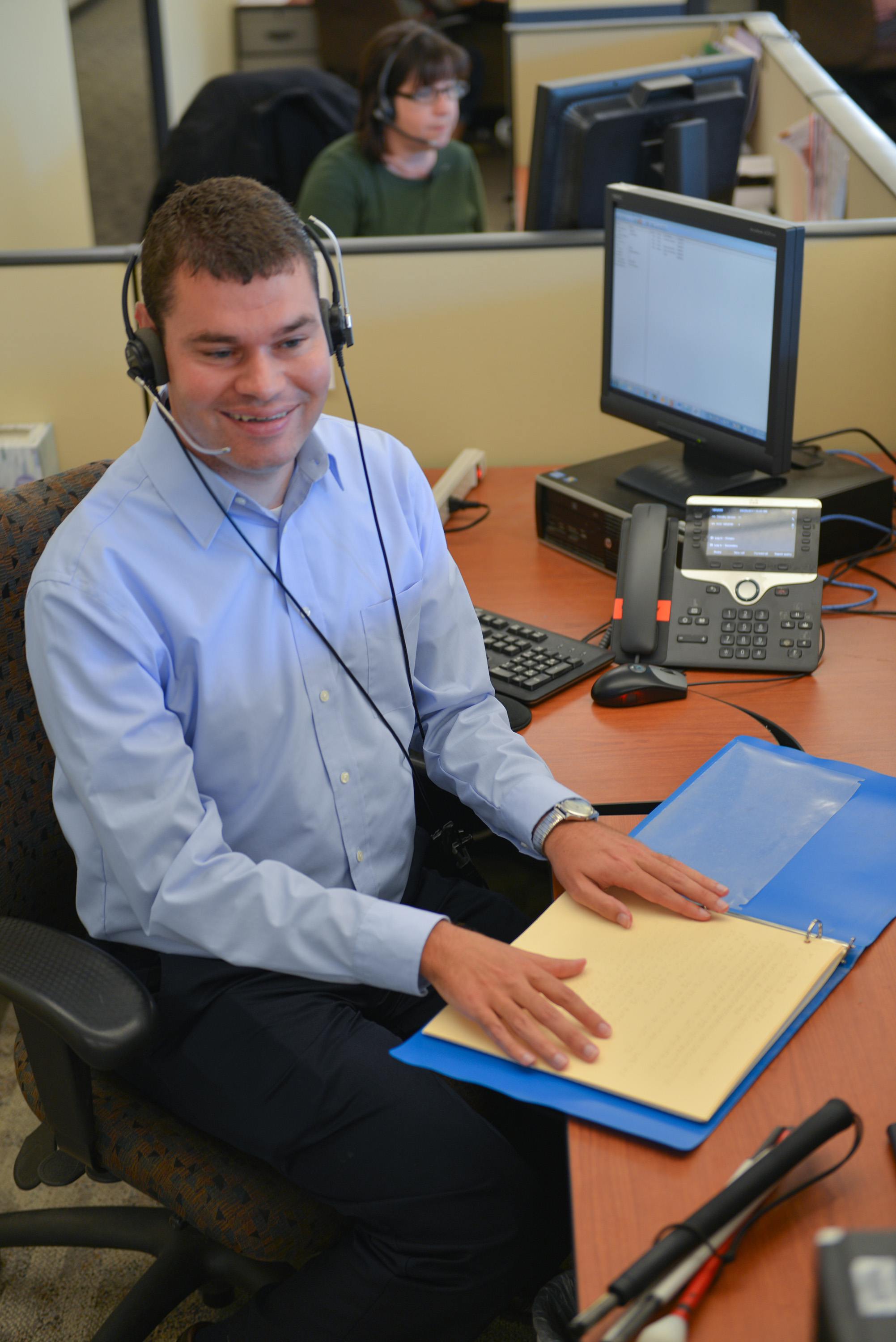 From his office in Westwood, Senior Customer Service Representative Tim Vernon slips on a special headset and answers a customer call. In one ear he hears the customer's voice, in the other, it's the voice of JAWS, or "Job Access with Speech."
Because Tim is totally blind and cannot use a mouse, he follows a series of JAWS audio prompts and uses a keyboard to access customer account information to promptly resolve an issue.
"It's a great feeling to compete in a sighted world," Tim said. "The customer has no idea that I'm blind."

Eversource recognizes Disability Pride Month in July to mark the anniversary of the Americans with Disabilities Act while prohibits discrimination and guarantees equal opportunities for people with disabilities. The company was honored with the 2020 National Disability on Organization (NOD)'s Leading Disability Employer Seal for its commitment to an inclusive work environment for all employees and the diversification of its workforce.

"I graduated from Fitchburg State University with a degree in communications, and I was on the Dean's List, so I thought I would be able to find a job quickly," said Tim. "But I was turned away on more than 75 job interviews once companies found out that I was blind. Eversource was not afraid to take the leap and think out of the box."

Tim believes that communication is important.

"I always go out of my way to talk with new employees because I understand they may feel uncomfortable at first about working with someone who is totally blind," he said. "I let them know not to get hung up on words. Even I say things like, 'I'm looking out the window.' I want them to know they can ask me anything.' "

Tim says that being totally blind does require extra planning. While many employees can hop in their car and drive to work, he rides a bus, a train and then a shuttle along with other Eversource employees to commute into the office. Whenever there are upgrades to the customer service software, the company works with a vendor that helps Tim navigate the changes.

"I'm so grateful for Eversource. It's an inclusive and welcoming place."

Since joining the company as Customer Service Representative (CSR) 13 years ago, Tim has been promoted, and now he helps other CSRs with escalated calls. His sharp listening skills and sensitivity to subtle cues and emotions while on calls gives him an edge in customer service.

"When a CSR that I regularly work with calls me, and I can hear it in their voice that they are down or stressed, I ask 'how can we make your experience better?' I enjoy helping everyone and feel gratified knowing I resolved their concern or shared guidance for handling a similar call in the future.' "

Tim has also paved the way for others. Last summer, Eversource hired Customer Service Representative Jed Barton, who is also totally blind. Prior to his start, Eversource had training materials transcribed into Braille and welcomed Jed to visit the office with an orientation instructor so he could memorize the floor plan. Tim helped to train Jed on the JAWS system.

"It shows Eversource's commitment to welcoming employees with disabilities, and that anything is possible," said Tim.