Information on this page is for customers in
Connecticut News
Stronger Together: Diverse Team of Eversource Women Are Leading the Charge to Decarbonize Homes and Businesses
diversity and inclusion
sustainability
energy awareness month
energy efficiency
While they each followed different paths to their careers at Eversource, a powerhouse team of women in our energy efficiency group are united in their shared mission of fighting the impacts of climate change. It's their unique ways of thinking that are driving the team's success innovating and advancing our award-winning energy efficiency programs.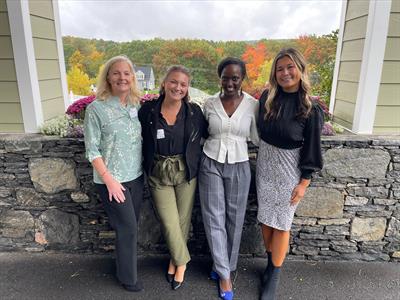 "Our diverse backgrounds lead to creative thinking," said Sherina Mutuluuza, an associate energy efficiency consultant who started her career here at Eversource as a member of our New Construction Energy Efficiency Co-op. "While we share the same goals, we all have different ideas on how to overcome challenges and achieve them."
"This is not how I started my career," said Kim Cullinane, the team's lead, and a mentor. "I remember being 25 years old in the oil industry and being one of the only professional women. When we hired for this team, we hired the best people for the roles, and most of them happened to be women. It's an extremely supportive, open-minded team—and that's especially important for a young woman to feel confident contributing an idea with a group."
From designing and launching one of the nation's leading commercial net zero programs to collaborating with program administrators to constantly modernize our energy efficiency programs to meet our customers' needs and drive greenhouse gas reductions, they're on the front lines of the clean energy transition in New England.
It's this opportunity to help decarbonize homes and businesses that each of the women say drew them to Eversource's energy efficiency team.
"My career path started with my love for the environment and thinking about what can be done, and then finding a space where I could have a direct impact," said Mutuluuza.
"To be a part of something really significant and contributing to groundbreaking work in my first job—that's exciting and something that not every woman has the opportunity to do," agreed Kaitlin Hur, also an associate energy efficiency consultant. "We're having a statewide impact and utilities across the country are emulating our work. We're all part of something bigger."
Elizabeth Stagg, the newest team member, saw firsthand the positive impact energy efficiency programs have on her neighbors' lives when she worked to install energy efficiency upgrades in their homes.
"People would tell me about how they were struggling to pay their energy bills, or how their child was suffering from asthma," she said. "When we would complete a blower door test, we'd find that these issues could be resolved through energy efficiency upgrades. These programs help to improve human health, reduce our customers' energy costs, and they're advancing environmental justice."
As part of their continued efforts to decarbonize homes and businesses throughout the region, Cullinane's team planned our 2022 Zero Energy Conference. The free, virtual, tri-state event provided architects, builders, general contractors, and anyone else interested with an opportunity to learn more about zero energy commercial buildings.
"We want people to see that building zero net energy homes and buildings is not only possible, but also being done," Cullinane said.
"There's a lot of support and lucrative incentives available for zero net energy home and building projects," said Mutuluuza. "What I love most about my job is that we're playing an active role in transforming sectors that are the highest sources of greenhouse gas emissions. It's rewarding to know that our programs are directly influencing people's choices to be more environmentally friendly."
Are you interested in joining our energy efficiency team? Find career opportunities on our website and learn more about our commitment to sustainability and social justice in our 2021 Sustainability Report and 2021 Diversity, Equity, and Inclusion Report.