Information on this page is for customers in
Connecticut News
Eversource Volunteers Celebrate Thanksgiving Early With Keystone House
community
Thanksgiving
volunteers
As Lissette Cuevas placed Thanksgiving decorations on white tablecloths, her colleagues were carrying in cooked turkeys, side dishes, and pies. In the kitchen, volunteers were busy slicing and preparing food for the guests they look forward to seeing every year. Many of the volunteers who worked to serve this early Thanksgiving meal at the Community Baptist Church in Norwalk say it's their favorite event.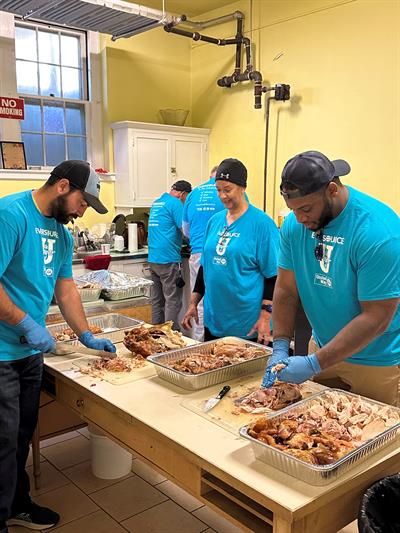 "I grew up in Norwalk, went to school in Norwalk, met my husband in Norwalk and my kids graduated in Norwalk," said Cuevas, an Eversource Associate Scheduler and Planner. "There's no better feeling than giving back to the community that raised you."
For the fifth year, Eversource partnered with Keystone House to hold an early Thanksgiving celebration for Keystone's clients. The nonprofit organization provides residential and day programs for more than 225 adults with significant mental health diagnoses, and Executive Director Nick Hoffman says the event encourages their clients to connect and engage with their community.
"Our goal is to get our clients, who have significant mental health diagnoses, as independent as possible," said Hoffman. "Being able to reconnect to your community is huge, and for a lot of our clients, the anxiety of leaving the home, leaving the facility, is so overwhelming. So this is good practice at doing that in a safe environment where they know the staff, they trust our advice and counsel, and they're able to come out and have a win in the community. So it's significant."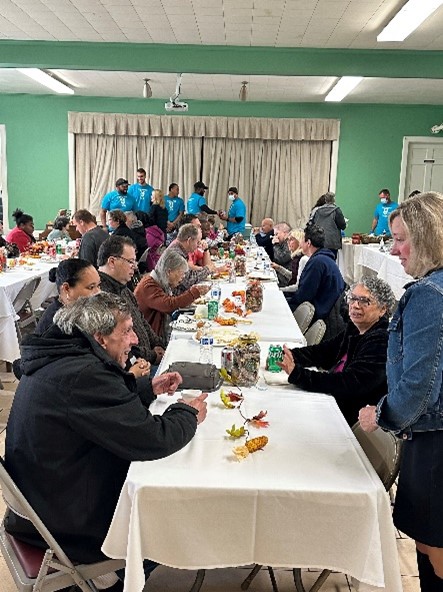 Hoffman says for many of their clients, it's their only Thanksgiving meal, so Eversource volunteers work hard every year to make it an extra special occasion. As guests arrived, volunteers greeted them with smiles and stood behind food stations ready to serve. The smell of good food and the sound of good conversation soon filled the dining area. Roman Stanislavskyy is an Eversource Electric Field Operations Manager and helped organize the event. He and his colleagues wanted to do something to make their community better and knowing the incredible work Keystone House does, the partnership was a perfect match. Every year more and more of Roman's colleagues volunteer.
"They're doing this from the bottom of their hearts. That's the kind of team we have in Norwalk. It's really nice to see," said Stanislavskyy. "For us to share the joy with the community, serving our community, serving people in need – that's a real pleasure for us. We really enjoy it."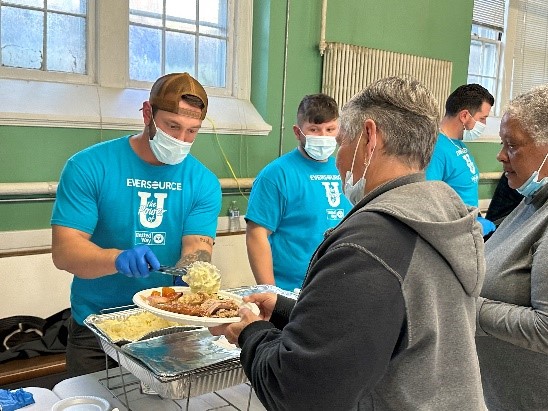 "Our employees look forward to doing this every year. It's one of those events that we circle on the calendar each year," said Clifford Williams, Eversource Electric Field Operations Director. "This team in Norwalk is special. They care about the customers they serve; they care about the communities they serve. They get involved, and they're always willing to help out. It's a special group."
Volunteers say they're already looking forward to the Thanksgiving celebration next year.