Information on this page is for customers in
Connecticut News
Eversource Upgrading Electric System in Waterbury
system reliability
system investments
Waterbury
Energy company investing more than $7.5 million over two years to improve reliability for southside city customers
BERLIN, Conn. – As part of its year-round commitment to provide reliable power to its customers, Eversource is investing more than $7.5 million in 2022 and 2023 for electric distribution system upgrades in the southside area of Waterbury. This year, the enhancement project includes installing nearly 150 stronger and thicker utility poles, approximately 100 new transformers and some 2.5 miles of overhead electric lines known as "tree wire" which can better withstand extreme weather. Also being added are more than a mile of underground lines and ten reclosers – high-voltage circuit breakers that detect and mitigate power interruptions. The upgrades and reconfiguration of electric circuits will also allow Eversource to retire and eventually remove a 60-plus year old substation that will no longer be needed.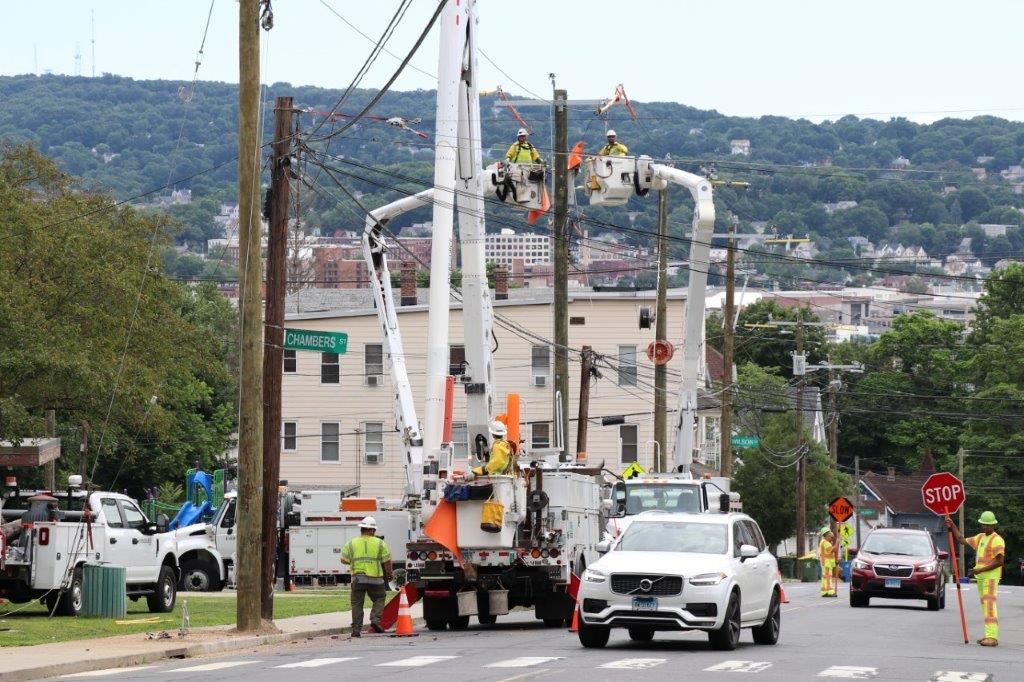 "We work year-round to strengthen the electric system to ensure customers have dependable energy. This project will create several 'automatic zones'- areas with equipment that can quickly reroute power if there is a problem - which will improve overall electric reliability," said Eversource President of Electric Operations in Connecticut Steve Sullivan. "By continuing to make strategic investments in the system, like these in Waterbury, we're building a more robust and resilient electric grid that will serve our customers well into the future."
The project is underway with crews working Monday through Thursday from 8 a.m. to 3 p.m. – weather permitting. Roads currently affected include Bank, Meadow, Riverside, South Leonard, South Main and Wilson streets as well as Washington and Sunnyside avenues. Roads to be affected later this year include Baldwin, East Liberty and River streets. Eversource will continue to work closely with community leaders and customers where the project is being done to minimize potential impacts to traffic and coordinate with other roadwork happening in the city. Customers may experience short power interruptions at times during the course of the project so crews can safely perform the work. Any customers affected will be notified in advance by the energy company. The first phase of this project is expected to be finished by the end of December, with all work completed by November 2023.
---
Eversource (NYSE: ES), celebrated as a national leader for its corporate citizenship, is the #1 energy company in Newsweek's list of America's Most Responsible Companies for 2021 and recognized as one of America's Most JUST Companies. Celebrated as a national leader for its corporate citizenship., Eversource transmits and delivers electricity to 1.27 million customers in 149 cities and towns, provides natural gas to 249,000 customers in 74 communities, and supplies water to approximately 207,000 customers in 56 communities across Connecticut. Eversource harnesses the commitment of approximately 9,200 employees across three states to build a single, united company around the mission of safely delivering reliable energy and water with superior customer service. The #1 energy efficiency provider in the nation, the company is empowering a clean energy future in the Northeast, with nationally-recognized energy efficiency solutions and successful programs to integrate new clean energy resources like solar, offshore wind, electric vehicles and battery storage, into the electric system. For more information, please visit eversource.com, and follow us on Twitter, Facebook, Instagram, and LinkedIn. For more information on our water services, visit aquarionwater.com.
MEDIA CONTACT:
Mitch Gross
(860) 665-5221
mitch.gross@eversource.com
# # #