Information on this page is for customers in
Connecticut News
Eversource Shares Tree "Scorecards" with Community Leaders Ahead of Scheduled Trimming
vegetation management
trees
tree trimming
Energy company working along 4,000 miles of electric distribution lines to strengthen system reliability
BERLIN, Conn. (March 15, 2022) – As storms seem to be happening more frequently and with more intensity – highlighting the devastation trees can cause and the importance of trimming and removal – Eversource is launching a new program to work together with community leaders on the impact trees are having in their city or town. While the energy company always provides a map of scheduled tree work to all of the 149 communities it serves ahead of time, this year its arborists are taking it one step further and sharing town-by-town "scorecards" that break down the numbers, making it easier to understand how thoughtful tree work strengthens the grid.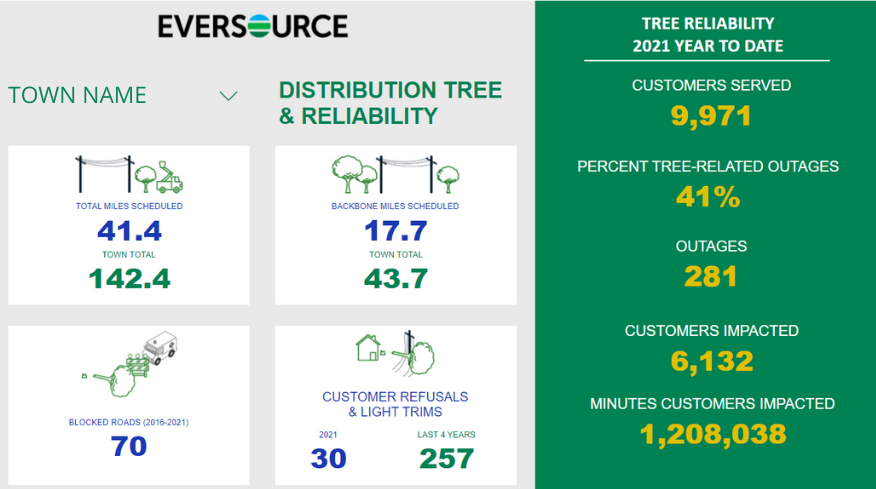 Sample Scorecard
This year, Eversource is investing $72 million in tree trimming and hazardous tree removal to enhance system reliability for customers throughout Connecticut and encourages customers to also maintain trees on their own properties that can interfere with electric lines or equipment. As part of its comprehensive vegetation management plan for 2022, Eversource will be trimming trees along 4,000 miles of overhead electric distribution lines around the state. Among the 132 communities where tree trimming will be performed, some of the most extensive work is scheduled to be done in Woodstock along 154 miles of roads, in Danbury and Haddam along approximately 113 miles and 93 miles in Cheshire. Other communities where work will be completed include Greenwich, Stamford, Killingly, Sharon, Norwalk and Stafford. Eversource notifies customers in advance if tree work is necessary on their property.
"We all love our trees, but they can have a devastating effect on the electric system, especially as fierce weather seems to be impacting New England more frequently," added Redding. "We've found these new scorecards have opened up the dialogue with property owners and town leaders and added more context to our ongoing conversations about tree trimming."
"We received our scorecard and while it shows that a majority of our residents understand the value of tree maintenance, the trees do cause serious problems, especially when these storms hit us. We've seen it not only in our city but throughout the region," said Bristol Director of Public Works and Tree Warden Raymond Rogozinski. "That's why it's so important that we work together – that property owners participate along with the towns, the state and Eversource - to address these tree issues."
In addition to the scorecards, another way Eversource is working with cities and towns is through a new urban tree planting program, a comprehensive environmentally-focused initiative to plant trees and support animal habitats in urban settings. Throughout the year, Eversource's arborists also host educational sessions in schools and work with property owners to understand their responsibility to maintain their own trees, including keeping branches away from the lower-voltage service wires connecting their homes and businesses to the main utility lines of the street.
For details on the company's comprehensive vegetation management program, please visit Eversource.com.
---
Eversource (NYSE: ES), celebrated as a national leader for its corporate citizenship, is the #1 energy company in Newsweek's list of America's Most Responsible Companies for 2021 and recognized as one of America's Most JUST Companies. Celebrated as a national leader for its corporate citizenship., Eversource transmits and delivers electricity to 1.27 million customers in 149 cities and towns, provides natural gas to 246,000 customers in 74 communities, and supplies water to approximately 223,000 customers in 56 communities across Connecticut. Eversource harnesses the commitment of approximately 9,300 employees across three states to build a single, united company around the mission of safely delivering reliable energy and water with superior customer service. The #1 energy efficiency provider in the nation, the company is empowering a clean energy future in the Northeast, with nationally-recognized energy efficiency solutions and successful programs to integrate new clean energy resources like solar, offshore wind, electric vehicles and battery storage, into the electric system. For more information, please visit eversource.com, and follow us on Twitter, Facebook, Instagram, and LinkedIn. For more information on our water services, visit aquarionwater.com.