Information on this page is for customers in
Connecticut News
Eversource Employees Gearing up for Hartford Marathon
employee feature
Hartford Marathon Foundation
Hartford Marathon
BERLIN, Conn. – It'll be a birthday wish come true for Paul Heath when he crosses the finish line at the 2022 Eversource Hartford Marathon. The 39-year-old Eversource electric field operations supervisor always wanted to run a marathon or half marathon before he turned 40, so he put it on his bucket list. Now he's planning to check it off his list on October 8th – just in time since his birthday is the next day.
"I knew this was the marathon I had to run since it's so close to my birthday," said Heath. "The timing is perfect."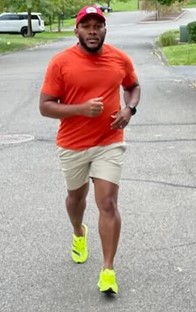 And he won't be running the half marathon alone. His wife, Cemerca, decided to take on the same challenge and will be by his side on the course. To train for the 13.1 miles, Heath has been running most evenings and going to the gym. His wife runs in the morning, and the couple trains together on weekends. This is a very different birthday plan from what Cemerca originally had in mind for Paul's 40th.
"My wife had plans to take me to Paris for my 40th birthday, but I told her, 'Yeah, I'm running the marathon' – so I kind of put a monkey wrench in her plan," said Heath. "It will be one thing off of my bucket list, and it'll be a gift from myself to myself for my 40th."
After running the half marathon on Saturday, Heath will put "going to Paris" on his bucket list and expects he and his wife will go there to commemorate another birthday. He won't be able to travel next year during the Hartford Eversource Marathon, though, because he plans to run again. He says next time, he'll take on the full marathon.
"I guess I would say I run for good health," said Heath. "Fitness is a way of life in our house."
Thousands of other runners from across the country and beyond will be joining Heath for the Eversource Hartford Marathon. More than 250 Eversource employees will be running, and nearly 100 will be volunteering that day – handing out water on the course, awarding medals at the finish line, and cheering on the runners along the way.
Since the Hartford Marathon began in 1994, more than $8.5 million has been raised to benefit local charitable organizations in the region.
This is the ninth year Eversource has been the title sponsor. Races kick off near Bushnell Park in Hartford on Saturday, October 8th at 8 a.m.
---
Eversource (NYSE: ES), celebrated as a national leader for its corporate citizenship, is the #1 energy company in Newsweek's list of America's Most Responsible Companies for 2021 and recognized as one of America's Most JUST Companies. Celebrated as a national leader for its corporate citizenship, Eversource transmits and delivers electricity to 1.27 million customers in 149 cities and towns, provides natural gas to 249,000 customers in 74 communities, and supplies water to approximately 207,000 customers in 56 communities across Connecticut. Eversource harnesses the commitment of approximately 9,200 employees across three states to build a single, united company around the mission of safely delivering reliable energy and water with superior customer service. The #1 energy efficiency provider in the nation, the company is empowering a clean energy future in the Northeast, with nationally-recognized energy efficiency solutions and successful programs to integrate new clean energy resources like solar, offshore wind, electric vehicles and battery storage, into the electric system. For more information, please visit eversource.com, and follow us on Twitter, Facebook, Instagram, and LinkedIn. For more information on our water services, visit aquarionwater.com.