Information on this page is for customers in
Ken Lomax Urges Others to Learn in Black History Month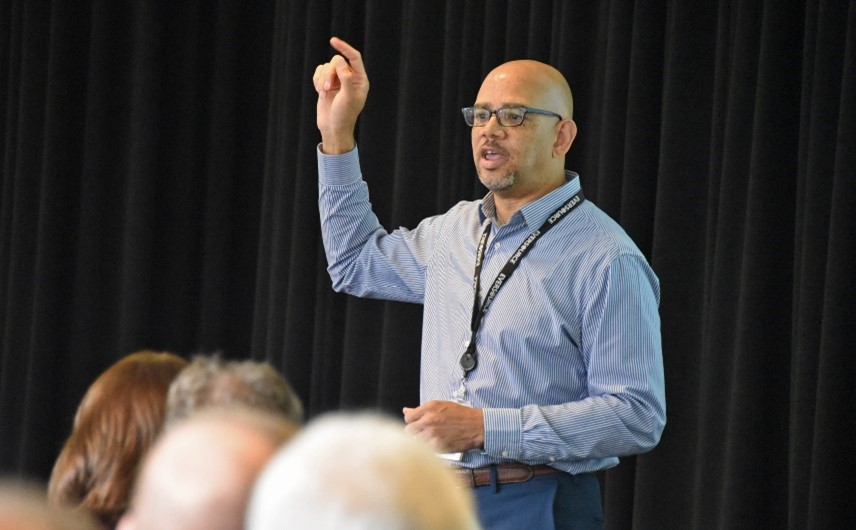 Eversource, along with the Diversity, Equity & Inclusion (DE&I) Multicultural Business Resource Group (MCBRG), is proud to celebrate Black History Month, a federally recognized, nationwide celebration honoring the history, experiences, and accomplishments of the Black community and champion leaders who have played a critical role in strengthening our nation's commitment to racial justice.
In 2023 we are spotlighting Technical Training Manager Ken Lomax, his view of Black History Month, and why he exemplifies DE&I in Action.
Ken describes himself as a continual learner.
He has more than 20 years of experience in the training field, and yet he still approaches every topic with an open mind and hunger to understand.
"Every opportunity I get to be in front of somebody and teach something, I spend some time making sure I understand it even more," Ken said. "That's what I really enjoy—just learning and learning and learning."
So, when the opportunity came up to join Eversource's Racial Equity Task Force, created after the George Floyd murder in 2020, Ken naturally wanted to know more.
He'd spent years volunteering with an after-school program in Boston for inner-city high schoolers with an interest in STEM after he graduated college with an engineering degree.
He also teaches and works with students through our EPUT and other pipeline development programs, offering ladders of opportunities and jobs to under-served youth and communities.
The Task Force was another chance to give back.
"It was learning," he said. "It was rewarding to see the number of folks that came from different areas of the company and to see so many people interested."
Talking about things like systemic racism – a force that Ken explained he has felt and experienced in life—is not always easy.
"When we hear about these things on the news, we think, 'that's outrageous. Those types of things can't happen everywhere,"' he said. "But I've seen things like that where I grew up, and I've seen a lot of things like that that were happening in regularity. It's as if you're expecting that not every situation will work to your advantage, because race might play a part."
In Ken's view, conversation is key.
Black History Month serves as a yet another reminder to talk about contributions of and the challenges for Black Americans in our country and communities. "It is that opportunity to recognize and bring awareness," he said. "Let's have conversations with folks and have questions about things that are related to the Black community."
Ken urges everyone to pursue continual learning, especially when it comes to Black history—not just in February, but year-round. "Our communities that we serve are diverse, and to do well at serving our communities, we need to understand our communities, and therefore we need to be representative of that," he said.