Information on this page is for customers in
Land Types
Land Management programs fall into seven categories, many of which overlap at individual parcels.
Land Trust
Four properties in CT have been placed into a non-profit conservation and preservation trust to maintain these lands as open space in perpetuity. This gift to the people of Connecticut and the region is believed to be the first large-scale preservation land trust founded by a regulated utility in the United States.
Learn more about the Eversource Land Trust.
Forest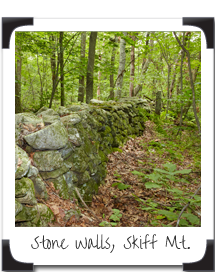 Nearly all Eversource conservation properties are wooded, with the exception of agricultural lands. These are managed working forests, with selective timber harvests, in keeping with historic land uses.
Wildlife
Four Eversource properties are managed for wildlife by Eversource and the CT DEEP. Hunting is permitted and administered by the CT DEEP Wildlife Division at the following locations:
Kings Island WMA
Maromas WMA
Skiff Mountain WMA
Newgate WMA
Eversource also administers its own, "private land," permit-only hunting program (deer and turkey) on 12 other land parcels representing 2,100 acres. Approximately 350 permits are issued by lottery each year. Applications must be picked up in person at the Eversource General Offices (107 Selden Street, Berlin, CT) from January through March 15. Successful applicants are notified by mail.
Written authorization is also required for those wishing to hunt small game on Eversource "private land" properties.
Contact Eversource Real Estate and Property Management at 860-665-6176 for more information.
Agricultural
These lands are actively farmed by licensed growers and are generally not open to the public.
Cultural
The wide variety of cultural resources on many of our conservation properties include old stone walls, foundations and cellar holes, and sites once inhabited by Native Americans. Eversource is earnest in its commitment to protecting these resources, which represent our region's history and development.
Protected
The following properties are preserved through conservation restrictions:
Hubbard Brook Preserve - Middletown, CT
Agawam Junction - Agawam, MA
Quinebaug Junction - Brooklyn, CT
Quaker Farms/Peck Road - Oxford, CT
Recreational
Join us in a wide range of activities, including bird watching, hunting, fishing, canoeing/kayaking, bicycling and hiking on most of Eversource's open space properties.