Information on this page is for customers in
Geothermal Pilot Program in Framingham
An innovative heating and cooling system using renewable power from the earth.
What is Geothermal Energy?
A geothermal system uses wells, piping and pumps to pull the earth's heat out of the ground to warm buildings in winter and pumps heat from buildings back into the ground in summer to cool them.
It is renewable energy that comes from the sun's rays and temperatures produced in the earth's core. This energy can be used to heat and cool indoor spaces and produce hot water in conjunction with geothermal heat pumps.
This technology is in everyday use in the U.S. and around the world.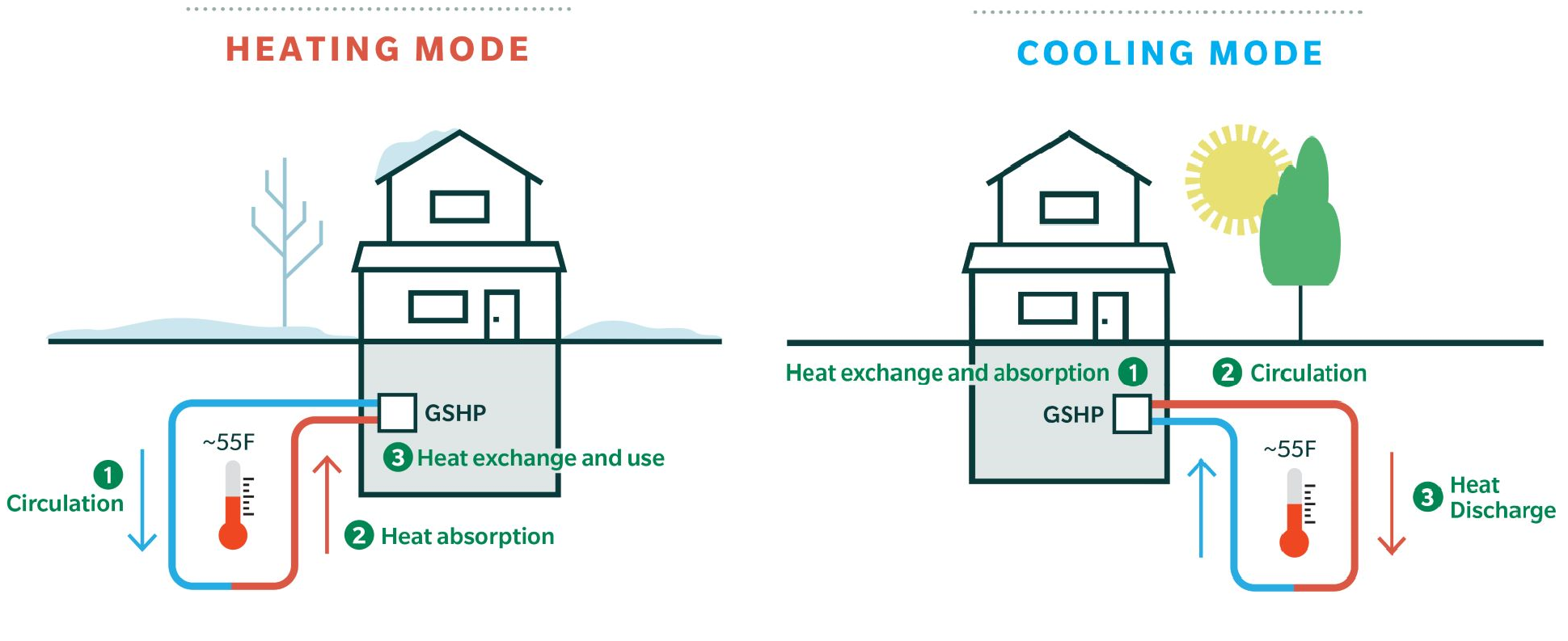 Our First-of-its-Kind Pilot Uses Utility-Scale, Networked Geothermal
A geothermal system uses wells, piping and pumps to pull the earth's heat out of the ground to warm buildings in winter and pumps heat from buildings back into the ground in summer to cool them.
It is renewable energy that comes from the sun's rays and temperatures produced in the earth's core.
We're piloting its use at scale in Framingham as a potential option to complement or replace delivered fuels and natural gas service for heating and cooling. The use of this technology could be expanded in the future based on the outcome of the project.
About the Project
We're committed to delivering New England's vision of a clean energy future, and determining if networked geothermal systems are a viable option to affordably heat and cool homes and businesses.
The project was approved by the Massachusetts Department of Public Utilities and, once in service, the pilot is intended to run through two heating and cooling seasons (24 months). The planned route consists of 37 buildings, 32 of which are residential homes.
We entered into an agreement with participating customers for the duration of the pilot, and will accept feedback before, during, and after the pilot period to ensure the best customer experience possible.
See more detailed construction updates, a route map and community outreach.
Groundbreaking
We hosted state and local leaders, along with clean energy partners, at MassBay Community College in Framingham on June 12 for the groundbreaking of our networked geothermal pilot.
The event marked the start of construction on this innovative project, which is expected to be complete around October or early November in time for the heating season.
"This is what fighting climate change on a local level looks like," said Vice President of Clean Technologies Nikki Bruno. "It's not one entity. It's all of us together: it's customers, it's agencies, it's utilities, it's advocates. This is a powerful moment for us."
Other speakers at the event included HEET co-executive director Zeyneb Magavi, State Rep. Priscila Sousa, Eversource President of Gas Distribution Bill Akley, Framingham Mayor Charlie Sisitsky, and Eversource President, CEO and Chairman Joe Nolan. The full livestream can be watched on Facebook.
"Operating, constructing and maintaining an underground geothermal network has a lot of parallels to what our industry and our employees do every day," explained Bill. "This project, for us, is enabling our group of dedicated employees to see a way that we can provide different services in a different way."
"This is truly an example of a real win-win for everybody as we move forward to this clean energy future," added Joe Nolan. ​​​​​​​
What Pilot Customers Receive
A cost-effective, low-carbon source of heating and cooling.
We pay for the cost of building and installing the geothermal system, as well as all the equipment to be installed in homes and businesses.
Participants will pay a low fixed charge each month for access to the geothermal network. They will be responsible for their electric bill that will power the heat pump. However, their monthly energy costs should ultimately decrease because they will no longer be primarily paying for natural gas or delivered fuels to heat and cool their homes and businesses.
The technology is proven, but if something isn't functioning as planned or customers want an alternate heating and cooling service, we will work to ensure the continued heating and cooling of property for personal comfort.
Reference Guide
Learn more about the process, technology, neighborhood and more.
What are the benefits of a geothermal heat pump system?
Low maintenance and cost effective: Compared to traditional heating and cooling systems, geothermal heat pump systems require less maintenance to operate and are more efficient, therefore, represent a more cost-effective way to maintain long-term energy solution.
Reliable: Geothermal energy provides a constant energy supply in all weather conditions. It is always available, day or night, and whether it's sunny or windy. Geothermal systems have a long-life expectancy; geothermal heat pumps are rated to last 25 years or more, while the underground infrastructure is warranted to last up to 50 years.
Quiet: Ground source heat pumps are significantly quieter than a traditional compressor used with other types of heating and cooling.
Clean: Using geothermal energy for heating and cooling can reduce the average residential customer's carbon emissions by up to 60%.
Renewable and sustainable: Geothermal energy is a sustainable energy source and is continuously replenished by the sun and earth's core. A properly sized and balanced geothermal heat pump system should have no net change on the earth's underground thermal environment.
What are the risks of geothermal heat pump systems?
The risks with geothermal equipment are not very different from other heating and cooling equipment.
If the power goes out, the system will not operate. This is not any different from your existing heating and cooling equipment which will also not operate if the power goes out.
As with other buried utilities, there is always a risk of the system being damaged by digging or construction activities.
Equipment needs to be maintained and serviced if needed.
The circulation fluid that is warmed/cooled by the underground loop is entirely contained within pipes and includes a mixture of water and glycol for freeze protection. This fluid is environmentally friendly and non-toxic. During system operation, fluid levels may need to be periodically maintained and adjusted by Eversource.
Why Framingham?
We already serve the city with electric and natural gas services.
The chosen neighborhood contains about 100 neighboring residential, commercial and industrial customers in a relatively dense urban environment, which will provide a range of data and conditions that the pilot is designated to evaluate.
Participants represent a diverse cross section of income levels and utility use (delivered fuels, electric and gas).
Framingham was additionally selected based on various criteria including:

Community willingness
They have clean energy goals that align with ours
Geological feasibility
Siting considerations
Technical feasibility
How will we determine if the pilot is successful?
The pilot will be evaluated on a number of criteria points so we can best determine if it is feasible to add geothermal to our offerings for customers. We will be evaluating:
Cost to install and operate
Benefits to customers
Customer feedback
Emissions reductions
Possible billing structures
Expandability
I Signed Up. What Else Should I Know?
Because the network is shared, how is usage calculated individually?
During the technical visit, we will evaluate each individual home/business to determine and estimate. The evaluation will factor in past utility usage. All 100 customers will not be on the system at the same time. We will size it to be efficient. During the operation of the pilot, we will also be monitoring usage by each heat pump to compare our design vs. actual performance.
If a pipe is damaged, does the whole system go down?
It depends on where the damage takes place. Hits typically happen on service lines located on a customer's private property, so we would be able to isolate the individual service line. It would not affect the whole system. This is similar to how we respond to hits on our natural gas service lines. If a main line hit occurs, the severity will determine if a repair can be made without shutting down the system.
Who is responsible for maintenance? Do customers have a choice of who maintains their equipment?
Eversource will perform the maintenance of the geothermal equipment for the duration of the pilot project. Once the program is finished, the equipment maintenance will be the responsibility of the property owner.
If the pipes last 50 years, who is responsible for the cost when they need to be replaced?
The system – including the pipes – will be owned and operated by Eversource. Eversource is responsible for the pipes and replacing them if needed. We estimate the pipes will last 50 years. We will be using HDPE plastic pipes, the same type we use for gas; currently, many in use are older than 50 years.
Additional Information and Project Coverage
Have Questions?

If you have questions about the pilot or would like to receive regular updates, please email geothermal@eversource.com.