Information on this page is for customers in
Hartford Underground Cable Modernization
en Español (PDF)

Why Are We Doing This Project?
As part of our ongoing commitment to deliver reliable energy and superior service to our customers, we are proposing to replace existing 115-kilovolt (kV) high pressure fluid-filled (HPFF) underground transmission lines with new 115-kV cross-linked polyethylene (XLPE) transmission lines.
Two underground transmission lines in Hartford, the 1704 and 1722 lines, were built in 1974 and are past their useful life expectancy.​ Replacing the existing HPFF with XLPE will modernize the existing transmission system and increase reliability.
Where Is This Work Being Done?
The proposed project is part of a larger program we are conducting throughout our service territory in Connecticut and Massachusetts related to underground cable modernization. This program is designed to modernize and increase the capacity of the existing underground transmission cable systems by replacing existing fluid-filled cable with cross-linked polyethylene cable.
The 1704 underground transmission line runs from Southwest Hartford Substation to South Meadow Substation. The 1722 underground transmission line runs from Southwest Hartford Substation to Northwest Hartford Substation.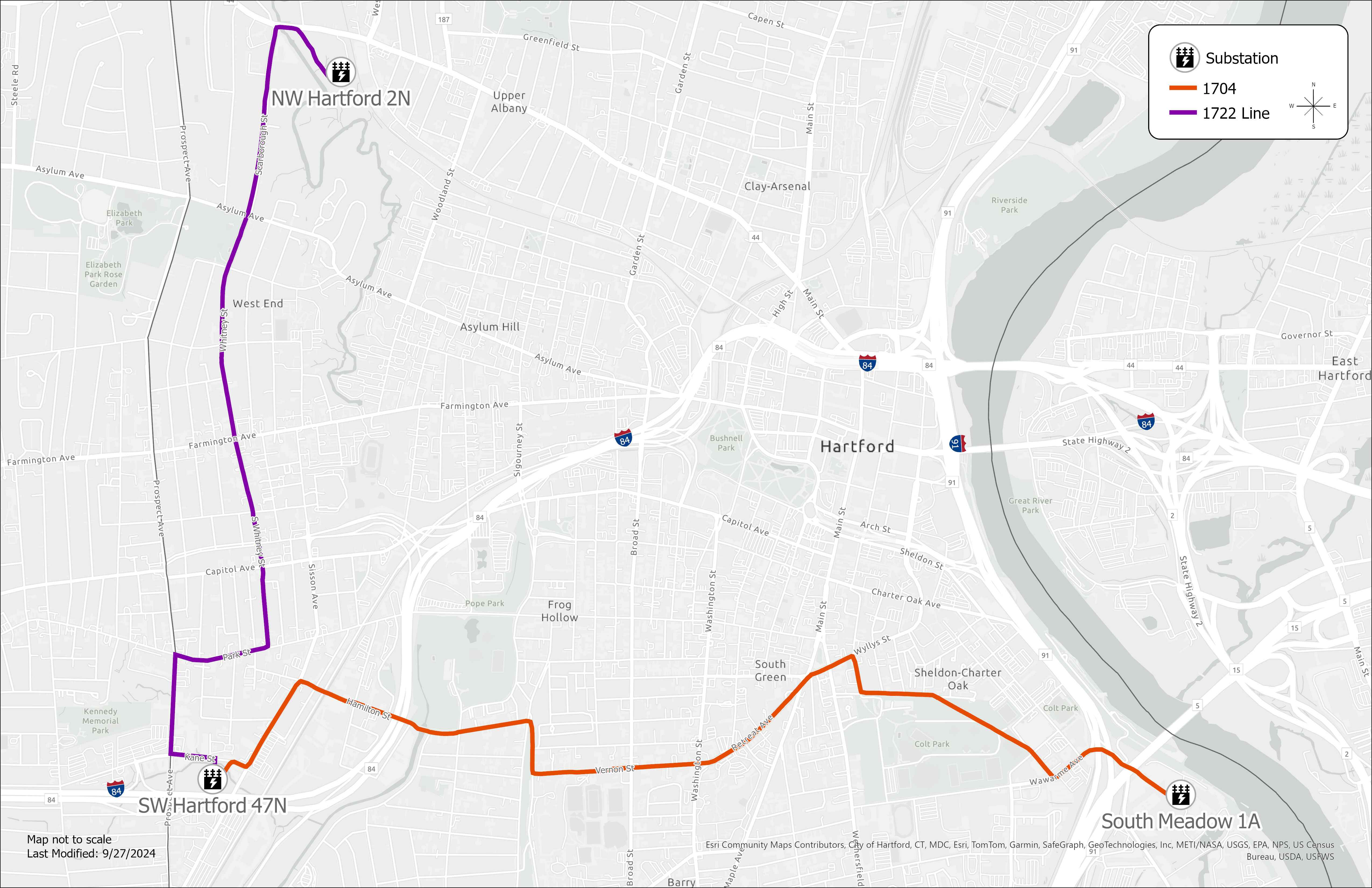 When Is The Work Being Done?
Petition filing to the Connecticut Siting Council: Fall 2023
Connecticut Siting Council decision: Spring 2024
Proposed start of construction: Summer 2024
*Subject to change, pending necessary approvals
About this project
Route length: 5 miles
Line voltage: 115 kilovolts (kV)
Siting review by: Connecticut Siting Council (CSC)
Siting Review
This project requires a petition filed with the Connecticut Siting Council. We intend to submit this petition to the CSC in Fall of 2023. Environmental permits will also be required from state and federal agencies.
Community Outreach
We will continue to communicate with elected and local officials, residents, and businesses as we conduct these maintenance and reliability upgrades. We are committed to providing meaningful opportunities to participate in the project development process, and to incorporate local feedback into the project's development as feasible.
Have Questions?
Keeping the lines of communication open is an important part of our work in your community.
For more information about this project, please call the transmission project information hotline at 1-800-793-2202 or email ProjectInfo@eversource.com.