Information on this page is for customers in
Connecticut News
Local Reporter Joins Eversource Media Relations
BERLIN, Conn. (September 15, 2022) –After 15 years working as a TV news journalist, former NBC30 reporter Jamie Ratliff is joining Eversource's Media Relations team. Ratliff will serve as an Eversource spokesperson and help share the energy company's stories with reporters at local and national news outlets.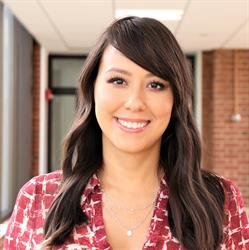 During her time working in Connecticut, Ratliff has become a familiar face and trusted source of information, covering a range of topics, including education, wildlife, and politics. Ratliff will leverage her experience as a journalist and knowledge of the state to highlight the proactive work done at Eversource to provide excellent service to its customers.
"Jamie's years of work informing Connecticut residents and the strong ties she's built in the state over the years make her an asset as we share our vision and commitment to environmental sustainability and carbon neutrality," said Eversource Director of Media Relations and Social Media Caroline Pretyman. "We value the important role the media plays in helping to get news and updates to our communities and customers, particularly during storms and other emergencies, and we are thrilled to welcome Jamie to the team to work with news outlets hand-in-hand."
After graduating from the University of Texas at Austin, Ratliff worked in news and sports in Oklahoma and Texas. She moved to the northeast to take a reporting job in Albany, NY, before landing in Connecticut. Originally from a small town outside San Antonio, TX, Ratliff now lives in Farmington with her dog, Addie.
Ratliff can be reached at (860) 665-6056 or jamie.ratliff@eversource.com.
Eversource (NYSE: ES), celebrated as a national leader for its corporate citizenship, is the #1 energy company in Newsweek's list of America's Most Responsible Companies for 2021 and recognized as one of America's Most JUST Companies. Celebrated as a national leader for its corporate citizenship., Eversource transmits and delivers electricity to 1.27 million customers in 149 cities and towns, provides natural gas to 249,000 customers in 74 communities, and supplies water to approximately 207,000 customers in 56 communities across Connecticut. Eversource harnesses the commitment of approximately 9,200 employees across three states to build a single, united company around the mission of safely delivering reliable energy and water with superior customer service. The #1 energy efficiency provider in the nation, the company is empowering a clean energy future in the Northeast, with nationally-recognized energy efficiency solutions and successful programs to integrate new clean energy resources like solar, offshore wind, electric vehicles and battery storage, into the electric system. For more information, please visit eversource.com, and follow us on Twitter, Facebook, Instagram, and LinkedIn. For more information on our water services, visit aquarionwater.com.
CONTACT:
Tricia Taskey Modifica
860-665-4605
tricia.modifica@eversource.com