Information on this page is for customers in
Connecticut News
Eversource Volunteers Ready to Welcome Back Special Olympics Connecticut Winter Games Athletes
volunteers
Special Olympics
Special Olympics Winter Games
West Hartford resident directing cross-country skiing and snowshoe competitions
BERLIN, Conn. – Chris Keever of West Hartford has never been one for the limelight. Several years ago, Special Olympics Connecticut (SOCT) gave him an "Unsung Hero" award in recognition of his efforts to help make cross-country skiing, part of SOCT's Winter Games competition at Eversource's Windsor facility, a success. Now, after a one-year hiatus due to COVID, the Games are back in Windsor and some 20 years after becoming a Winter Games volunteer, the Eversource employee is assuming the title of Director of Competition – overseeing the cross-country skiing and snowshoeing races. For Keever, the Winter Games is more than a volunteer opportunity, it's a family affair.
"It's a big family thing - my wife and kids have come every year to opening ceremonies since I started volunteering and when the boys each turned 10, they became course helpers and continue to do so. They're hooked," said Keever. "This year we're still navigating the pandemic and while the Games will be only one day instead of the usual weekend, I had no hesitancy taking the director's role because of our other "family," the team of volunteers, many who also come back year after year."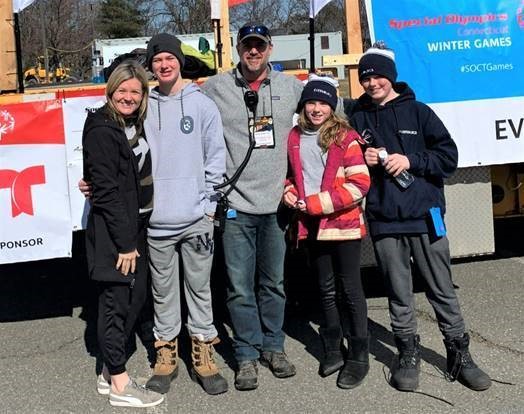 Keever with (left to right), wife Laura, son Will, daughter Ellie and son Charlie
Eversource's volunteer snowmakers – the only team that makes snow exclusively for a Special Olympics state Winter Games event – have been busy running the snow guns and preparing the course. But the forecasted rain and warm temperatures leading up to the Games could make things difficult. As an Eversource Supervisor in Distribution Outage Coordination, Keever is experienced in making any necessary adjustments and will do what it takes to make sure the Games go on.
"Ten years ago, I said it's the smiles on the athletes faces that brings me back year after year and that's the same today," added Keever. "The spirit of the games is to be open to anyone with a mental or physical handicap and we have athletes of all ability levels. We've integrated technology to help us officiate and report results better, and we're committed to giving these athletes the best experience we can."
On Saturday, February 26, approximately 75 athletes of all ages from across Connecticut will be competing in cross-country skiing and snowshoeing at Eversource's Windsor facility at 1985 Blue Hills Avenue Extension (Route 187). Opening ceremonies begin at 9:30 a.m. and the competition gets underway at 10 a.m.
For more information on Special Olympics Connecticut, visit www.soct.org, and follow Special Olympics Connecticut and Eversource on Facebook and Twitter (#SOCTGames).
---
Eversource (NYSE: ES), celebrated as a national leader for its corporate citizenship, is the #1 energy company in Newsweek's list of America's Most Responsible Companies for 2021 and recognized as one of America's Most JUST Companies. Eversource transmits and delivers electricity to 1.27 million customers in 149 cities and towns, provides natural gas to 246,000 customers in 74 communities, and supplies water to approximately 216,000 customers in 52 communities across Connecticut. Eversource harnesses the commitment of approximately 9,300 employees across three states to build a single, united company around the mission of safely delivering reliable energy and water with superior customer service. The #1 energy efficiency provider in the nation, the company is empowering a clean energy future in the Northeast, with nationally-recognized energy efficiency solutions and successful programs to integrate new clean energy resources like solar, offshore wind, electric vehicles and battery storage, into the electric system. For more information, please visit eversource.com, and follow us on Twitter, Facebook, Instagram, and LinkedIn. For more information on our water services, visit aquarionwater.com.
MEDIA CONTACT:
Mitch Gross
(860) 665-5221
mitch.gross@eversource.com
###