Information on this page is for customers in
Connecticut News
Eversource Volunteers Ready to Cheer on Special Olympics Connecticut Winter Games Athletes
Special Olympics Winter Games
Special Olympics
volunteers
Pure joy. That's what Arianna Baret hopes every Special Olympics Connecticut athlete takes away from this Sunday's games. For more than 10 years, the Eversource asset management technology manager has been volunteering for the winter games and says her favorite part is seeing the athletes and their families.
"Every year I get emotional because you see the athletes coming back," said Baret. "I've been doing this since 2012, and to this day, there are faces I always remember. You see athletes who started when they were ten and now they're in their 20s and you feel like you're part of their life. There's no better feeling than bringing joy to the athletes. It's really the reason I keep coming back every year."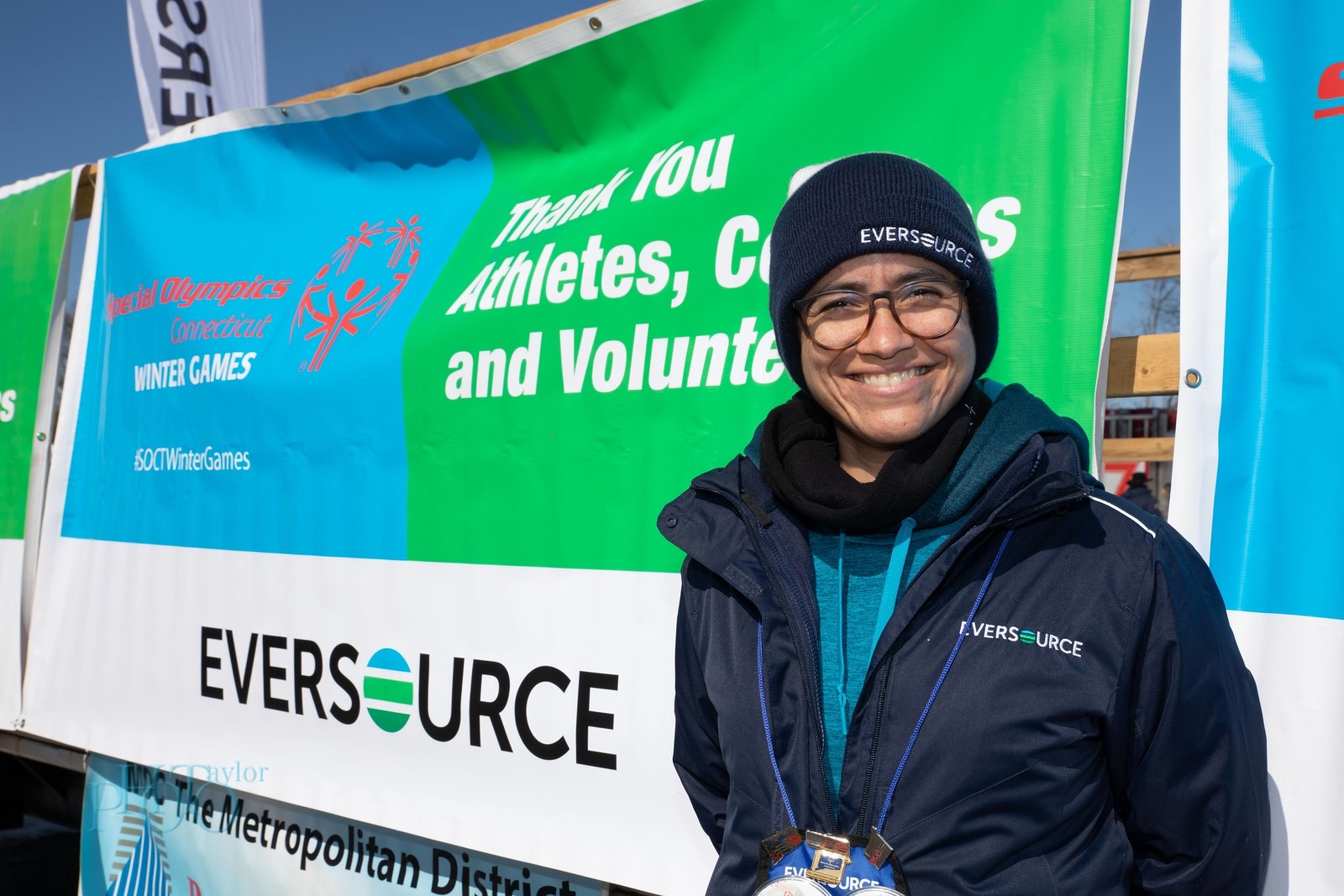 The Rocky Hill resident is in charge of the opening ceremonies, and it's a responsibility she takes very seriously. Planning for the winter games competition at Eversource's Windsor facility begins months in advance. The volunteer team makes sure all the resources are in place, all participants are ready, and that the ceremony runs smoothly.
"If something is not working, we try to solve it right away. We've faced many challenges and many changes. No matter what, every year we come together and make it happen," said Baret. "Volunteering for the Special Olympics is important to me. I just really enjoy being able to do something that brings joy to others."
Baret says one memory that always makes her smile is when she was trying to take a picture of a 10-year-old athlete who had a very serious expression on his face. She says eventually she got him to smile and printed the picture for his mom.
"The mom looks at it and says, 'I never get him to smile for the camera. This is the best picture I have of him.' That meant a lot to me" Baret said. "And every time he comes back, I just say, 'Oh! There he is! He's smiling!' Now, he's always smiling."
More than 100 athletes of all ages from across Connecticut are expected to compete in cross-country skiing and snowshoeing this Sunday.
"I hope that they have the best time during the event. I hope that we're giving them everything they need to make this day super special for them. I hope they feel supported, loved, and embraced," said Baret.
For more information on Special Olympics Connecticut, visit
www.soct.org
, and follow Special Olympics Connecticut and Eversource on Facebook and Twitter (#SOCTGames).