Information on this page is for customers in
Connecticut News
Eversource Recognizes Arbor Day by Donating, Planting, and Trimming Trees in Communities Around the State
vegetation management
Arbor Day
Energy company participates in dozens of events and donates thousands of seedlings
BERLIN, Conn. (April 28, 2023) – In celebration of Arbor Day, Eversource is collaborating with communities, schools, and environmental organizations to support and enhance green spaces. Focused on its commitment to environmental sustainability, the energy company is marking the holiday by participating in more than two dozen events, as well as donating nearly 5,000 tree seedlings around the state. At Martin Luther King, Jr. Middle School in Hartford, crews trimmed trees and donated 100 ornamental cherry and 20 witch hazel seedlings to students and teachers. KNOX, Inc. and the Hartford Department of Public Works also planted 25 trees at the school.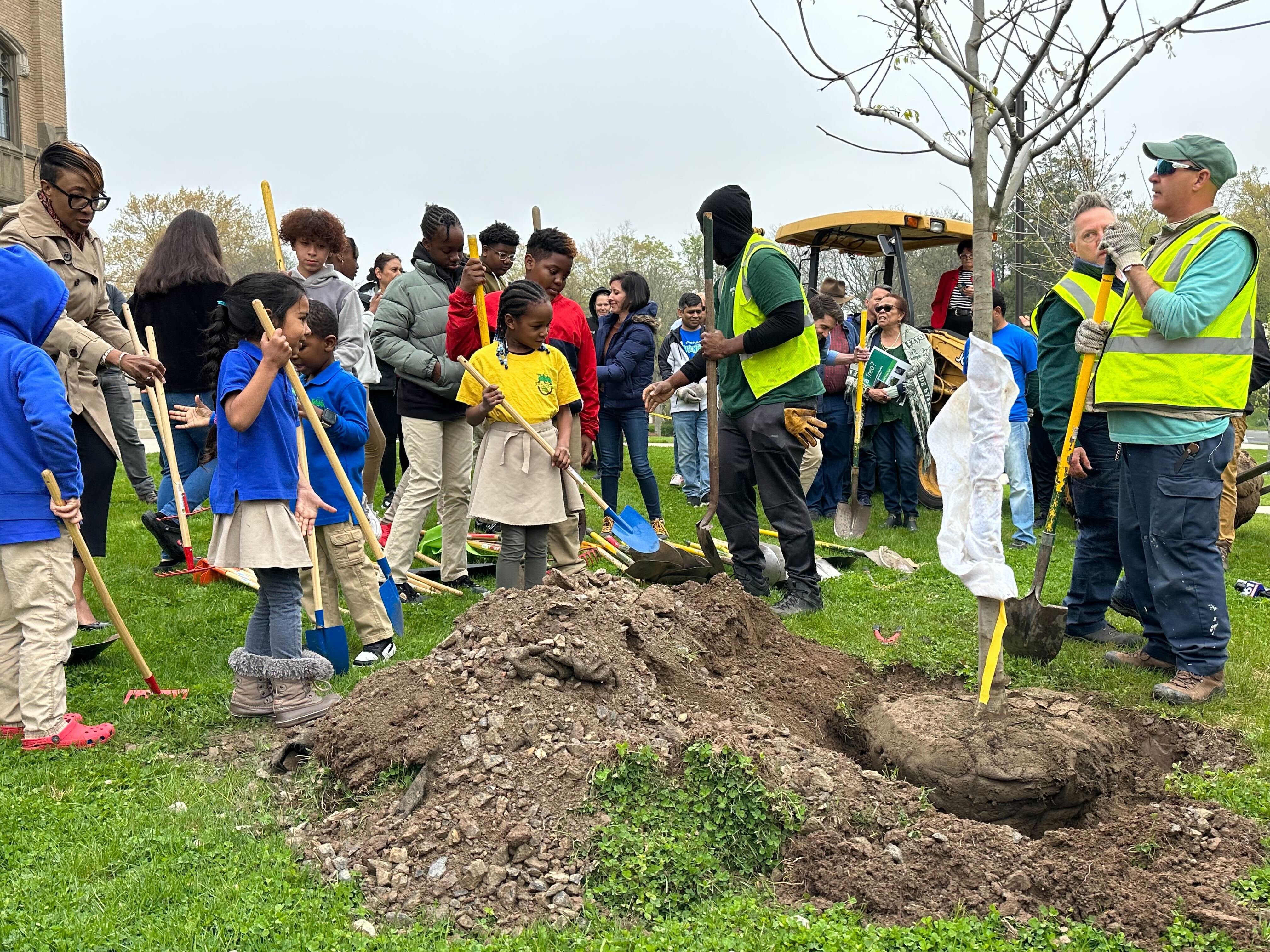 "By pruning, planting, and handing out seedlings, we're able to not only strengthen the trees already here but increase the green space in urban areas for everyone to enjoy for years to come," said Eversource Manager of Vegetation Management in Connecticut Sean Redding.
With trees across Connecticut continuing to suffer from the devastating impacts of the Emerald Ash Borer, Spongy Moth infestations and recent drought conditions, Eversource's year-round, comprehensive tree trimming and hazardous tree removal programs are critical to addressing the problem and reducing the number of tree-related power outages customers experience. Eversource's licensed arborists implement a thoughtful plan that balances customers' need for reliable service and the natural beauty and many other benefits that trees provide.
"It's about finding the right tree for the right place," said Redding. "The majority of power outages in our state are caused by falling trees and limbs, and if we are all thoughtful about where and what type of trees we plant, we can have a beautifully forested state that doesn't interfere with our electric needs."
Eversource also works with property owners to help them understand their responsibility to maintain their own trees. Homeowners are responsible for tree maintenance on their own property, including keeping branches away from the lower-voltage service wires connecting their homes and businesses to the main utility lines on the street. Eversource strongly recommends customers contact a professional tree service to perform this work. Property owners should also be sure to plan before they plant and review the energy company's list of
30 recommended trees
under 30 feet tall that can be planted near roadside or overhead electric distribution lines.
For details on the company's comprehensive vegetation management program, please visit Eversource.com.
Eversource (NYSE: ES), celebrated as a national leader for its corporate citizenship, is the #1 energy company in Newsweek's list of America's Most Responsible Companies for 2023 and recognized as one of America's Most JUST Companies. Celebrated as a national leader for its corporate citizenship. Eversource transmits and delivers electricity to 1.28 million customers in 149 cities and towns, provides natural gas to 251,000 customers in 74 communities, and supplies water to approximately 217,000 customers in 59 communities across Connecticut. Eversource harnesses the commitment of approximately 9,600 employees across three states to build a single, united company around the mission of safely delivering reliable energy and water with superior customer service. The #1 energy efficiency provider in the nation, the company is empowering a clean energy future in the Northeast, with nationally-recognized energy efficiency solutions and successful programs to integrate new clean energy resources like solar, offshore wind, electric vehicles and battery storage, into the electric system. For more information, please visit eversource.com, and follow us on Twitter, Facebook, Instagram, and LinkedIn. For more information on our water services, visit aquarionwater.com.
MEDIA CONTACTS:
Jamie Ratliff
(860) 665-6056
Tricia Taskey Modifica
(860) 665-4605