Information on this page is for customers in
Connecticut News
Eversource Partners with UConn, State and Federal Agencies on Wildlife Research
sustainability
wildlife
Earth Day
Energy company recognizes environmental stewardship on Earth Day

BERLIN, Conn. (April 22, 2022) – With its firm commitment to environmental stewardship, Eversource is partnering with wildlife researchers to study black bears and bobcats living on company land. Eversource protects and maintains tens-of-thousands of acres of forested wildlife habitat throughout Connecticut, land that is home to the animals at the center of the two wildlife research projects being done by the Department of Energy and Environmental Protection (DEEP), U.S. Fish and Wildlife Service (USFWS) and UConn.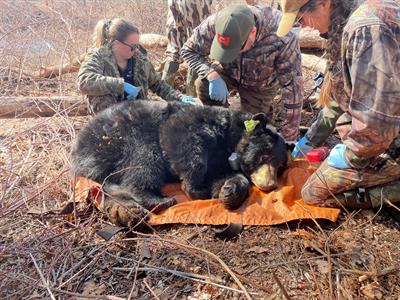 "Our environmental stewardship and sustainability efforts are important to us and these partnerships allow scientists to better understand these animals, their habits and how that might affect how we manage this land," said Eversource Vice President of Sustainability and Environmental Affairs Catherine Finneran. "It's fitting to recognize the importance of responsible land management, including the protection of wildlife, as we all celebrate Earth Day while also recognizing the efforts of our dedicated employees for all they do as environmental stewards."

Working with Eversource's Real Estate Management Department, DEEP wildlife biologists identified a 40-acre parcel of Eversource-owned land in Avon, where a black bear sow was denning with her two young cubs.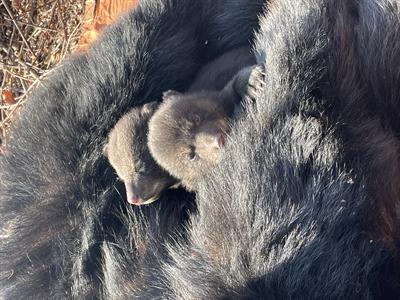 "The scientists and I hiked through the woods to triangulate the bears' location using a GPS device that corresponds with the sow's satellite collar," said Eversource Real Estate Administrator, Gillian Carroll. "Once the bear was immobilized, they took body measurements, temperature readings, fur and blood samples and changed the batteries in the GPS tracker so the bears' location can be tracked for the next two years."

The data collected will be incorporated into a larger study of black bears in eight other Northeastern states through a federal program called "Partner with a Payer" – an initiative of the Wildlife and Sport Fish Restoration program involving state and industry partners for wildlife and conservation research as well as state management plans.

"Much of Eversource's land is essentially untouched forest, dense with tree cover and vegetation, so it's the perfect habitat for black bear," said Jason Hawley, Wildlife Biologist at DEEP. "There's been a substantial increase in black bear numbers in recent years in Connecticut along with increased sightings in residential and suburban settings. This data will help us better understand how the bears are moving around and interacting with their environment."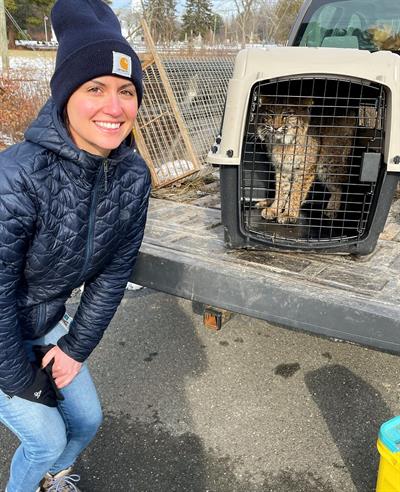 Eversource is also a collaborating partner with DEEP and UConn to track and study how bobcats interact on forested land within urbanized settings, utilizing Eversource-owned land in Hartford, West Hartford, Windsor, Bloomfield, Avon, Farmington, Simsbury and Canton. One of the bobcats included in the study is nicknamed "Gillian" after Gillian Carroll, who worked closely with the scientists to enable them to gather data for this study as well.

"It was an amazing experience to get up close and personal with these incredible animals," said Carroll. "When people think of an energy company, they may not immediately realize our important environmental protection and management role. It's great to be a part of progressive scientific research and aiding in conservation management plans."

The information gathered on the Eversource properties, which represents only a portion of the total study area, will be used to track population numbers, movements and activities of bobcats for the CT Bobcat Project.

First photo: DEEP wildlife biologists examine a black bear on Eversource property in Avon

Second photo: Scientists weigh and measure the sow's two young cubs that they estimate were born in January

Third photo: Gillian Carroll and the bobcat nicknamed "Gillian"
CONTACT:
Kate Rayner
(860) 665-4608
kate.rayner@eversource.com
Tricia Taskey Modifica
(860) 665-4605
tricia.modifica@eversource.com