Information on this page is for customers in
Connecticut News
Eversource Investing $74 Million to Improve Reliability and Help Reduce Storm-Related Tree Damage
tree trimming
system reliability
vegetation management
Work scheduled along more than 4,300 miles of electric lines in 2023; "scorecards" sent to community leaders
BERLIN, Conn. (February 2, 2023)
– When the power goes out during a storm,
it's most often caused by trees falling on power equipment
– and with the changing climate driving more frequent severe weather, tree trimming and removal near overhead lines is imperative to help fortify the electric system. Eversource's team of licensed arborists works year-round developing and implementing its comprehensive, data-driven maintenance program to enhance system reliability for customers. This year, the energy company is investing $74 million in tree management as part of a continuing goal to balance the need for electric reliability with the natural beauty that communities value.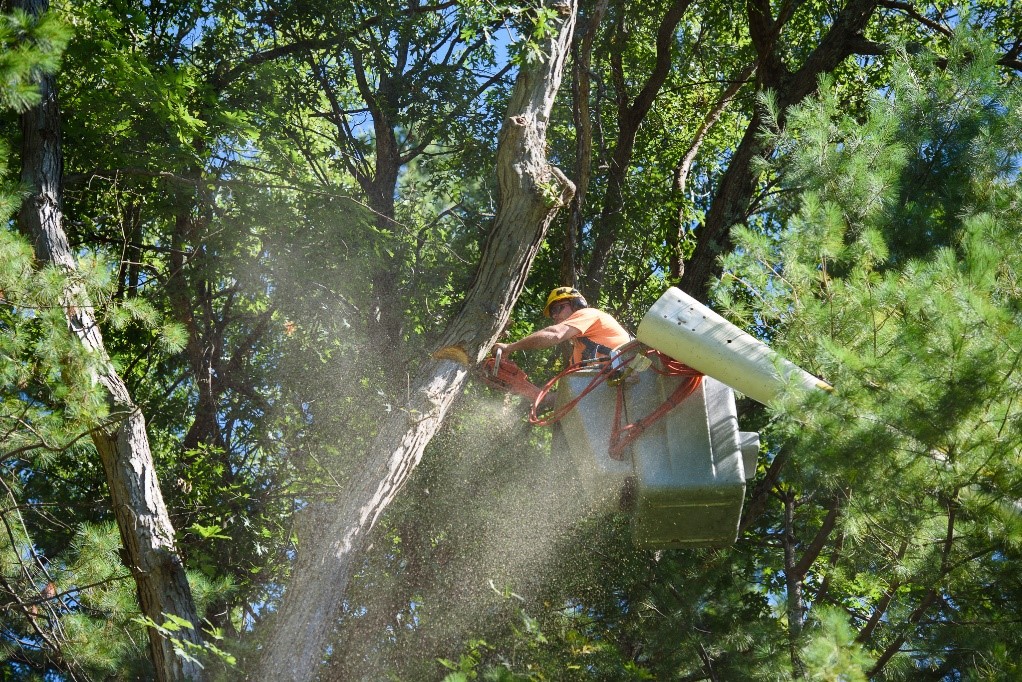 "Connecticut's roadside forest is not only getting older, it continues to suffer the effects of a variety of
environmental factors
ranging from stronger storms and recent droughts to a growing list of insect infestations and diseases," said Eversource Vegetation Management Manager Sean Redding. "The list now includes beech leaf disease along with the familiar spongy moth and emerald ash borer that continue to take a toll on trees across the state, and there are no signs of the problem going away. That's why our thoughtful program of identifying and removing weak and hazardous trees has never been more important. Tree trimming is one of the most cost-effective solutions to strengthening the electric grid, and we're constantly working to improve day-to-day reliability for our customers as we continue to see fewer power outages where this work has been done."
To enhance collaboration on tree trimming and removal with the communities it serves, Eversource launched a "scorecard" program last year to share critical information on the reliability and public safety impact trees are having in their city or town. The energy company has provided the scorecards to each town to show the number of miles scheduled for tree work, how trees have affected electric service or caused blocked roads in that community and a thorough explanation of the scope and importance of work planned.
Every year, Eversource trims or removes trees near approximately one-quarter of its more than 16,000 miles of overhead power lines around the state. This year, work is scheduled to be done along more than 4,300 miles of lines with some of the most extensive work being done in these communities:
• Greenwich: 140 miles of electric lines
• Manchester: 100 miles of lines
• Newtown: 100 miles of lines
• Redding: 98 miles of lines
• Watertown: 92 miles of lines
• Berlin: 80 miles of lines
• Enfield: 80 miles of lines
• Meriden: 80 miles of lines
• Southbury: 80 miles of lines
• Stamford: 80 miles of lines
Eversource always notifies customers in advance if tree work is necessary on their property. In addition to all the work Eversource crews do to minimize the effects of trees on reliable electric service, the company reminds homeowners that they are responsible for tree maintenance on their own property. This includes keeping branches away from the lower-voltage service wires connecting their homes and businesses to the main utility lines on the street. Eversource strongly recommends contacting a professional tree service to perform this work. For details on the company's comprehensive vegetation management program, please visit
Eversource.com
.
---
Eversource (NYSE: ES), celebrated as a national leader for its corporate citizenship, is the #1 energy company in Newsweek's list of America's Most Responsible Companies for 2023 and recognized as one of America's Most JUST Companies. Celebrated as a national leader for its corporate citizenship., Eversource transmits and delivers electricity to 1.27 million customers in 149 cities and towns, provides natural gas to 249,000 customers in 74 communities, and supplies water to approximately 207,000 customers in 56 communities across Connecticut. Eversource harnesses the commitment of approximately 9,500 employees across three states to build a single, united company around the mission of safely delivering reliable energy and water with superior customer service. The #1 energy efficiency provider in the nation, the company is empowering a clean energy future in the Northeast, with nationally-recognized energy efficiency solutions and successful programs to integrate new clean energy resources like solar, offshore wind, electric vehicles and battery storage, into the electric system. For more information, please visit eversource.com, and follow us on Twitter, Facebook, Instagram, and LinkedIn. For more information on our water services, visit aquarionwater.com.
Jamie Ratliff
(860) 665-6056
Mitch Gross
(860) 665-5221