Information on this page is for customers in
Connecticut News
Eversource Celebrates 150th Anniversary of Arbor Day with Urban Tree Planting Initiative
vegetation management
trees
Arbor Day
Energy company donates dozens of trees and seedlings to various communities in recognition of the tree planter's holiday
BERLIN, Conn. — Planting the right tree in the right place—especially near power lines—is vital to helping reduce power outages and delivering reliable energy to Connecticut homes and businesses. In recognition of Arbor Day, Eversource is donating approximately 60 trees to be planted in Walnut Hill Park and other locations throughout New Britain as part of its Urban Tree Planting Initiative. The environmentally-focused initiative aims to plant trees and support animal habitats in urban settings and is offered where there is opportunity to increase tree canopy cover and greenscape. New Britain is the second of multiple urban communities that will benefit from the program.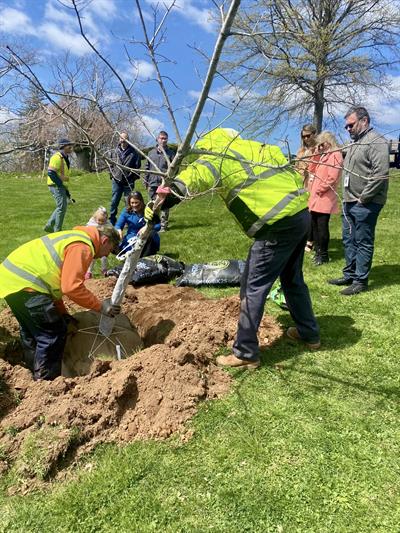 "As arborists, we love trees and Arbor Day is a perfect time to help make sure the right type of tree is planted in the right location in the communities we serve," said Eversource Manager of Vegetation Management in Connecticut Sean Redding. "While we live in one of the most heavily forested states in the country, many of our urban areas could really benefit from new trees or shrubs that will not only help beautify these communities but won't interfere with electric lines or equipment when they're fully grown."
"Trees are a vital part of any city so when Eversource offered us the opportunity to be part of their program, it was a no brainer. These new plantings will help make our city a greener, healthier and more attractive place to live in and work," said New Britain Mayor Erin Stewart.
Eversource's licensed arborists are participating in numerous Arbor Day-related activities over the next several days and weeks including tree plantings, seedling giveaways and pruning demonstrations in communities across the state. The energy company is also continuing its successful Notable Tree Partnership with the Connecticut Notable Tree Committee and the Tree Wardens' Association of Connecticut to improve the health of Connecticut's Notable Trees – a collection of 3,600 of our state's largest and historic trees.
Eversource arborists work with property owners to help them understand their responsibility to maintain their own trees, including keeping branches away from the lower-voltage service wires connecting their homes and businesses to the main utility lines along the street.
For details on the company's comprehensive vegetation management program, please visit Eversource.com.
Eversource (NYSE: ES), celebrated as a national leader for its corporate citizenship, is the #1 energy company in Newsweek's list of America's Most Responsible Companies for 2021 and recognized as one of America's Most JUST Companies. Celebrated as a national leader for its corporate citizenship., Eversource transmits and delivers electricity to 1.27 million customers in 149 cities and towns, provides natural gas to 249,000 customers in 74 communities, and supplies water to approximately 207,000 customers in 56 communities across Connecticut. Eversource harnesses the commitment of approximately 9,200 employees across three states to build a single, united company around the mission of safely delivering reliable energy and water with superior customer service. The #1 energy efficiency provider in the nation, the company is empowering a clean energy future in the Northeast, with nationally-recognized energy efficiency solutions and successful programs to integrate new clean energy resources like solar, offshore wind, electric vehicles and battery storage, into the electric system. For more information, please visit eversource.com, and follow us on Twitter, Facebook, Instagram, and LinkedIn. For more information on our water services, visit aquarionwater.com.
MEDIA CONTACTS:
Tricia Modifica
(860) 665-4605
Mitch Gross
(860) 665-5221
Kate Rayner
(860) 665-4608