Information on this page is for customers in
Connecticut News
Eversource and United States Coast Guard Academy Partnering on Maritime Center of Excellence
Coast Guard
energy efficiency upgrades
energy efficiency
Construction underway on newest energy-efficient learning facility on New London campus
BERLIN, Conn. –Following the successful completion of an energy efficiency project involving more than 30 buildings across campus, Eversource and the United States Coast Guard Academy (USCGA) have announced another partnership – developing the Maritime Center of Excellence (MCOE). As part of this project, the Academy is investing $1.83 million for Eversource to extend and install existing utility lines providing chilled water and natural gas as well as support energy efficiency measures throughout the new building.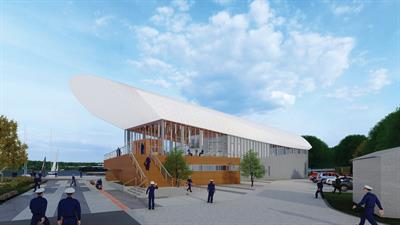 "We're excited to help make the Maritime Center of Excellence as energy efficient as possible, and to build on the previous work we've done at the USCGA," said Eversource Executive Vice President of Customer Experience and Energy Strategy Penni Conner. "Inside and out, we're working with the Academy to make sure this facility is a learning space that is comfortable and energy efficient."
The 20,000 square-foot facility will have a design reminiscent of the Coast Guard fleet with a curvilinear vaulted roof and wooden decks. Expected to be completed later this year, it will be a LEED (Leadership in Energy and Environmental Design) gold-certified building focusing on energy efficiency, using solar panels, natural ventilation and harvesting rainwater. Eversource will provide interior and exterior lighting measures that are 37% more efficient than local building codes require, along with occupancy sensors, high-efficiency boilers for heating, and an economizer on the air handling unit. These measures will combine to provide energy savings of 825,000 kilowatt-hours (kWh) of power over the lifetime of the building, reducing the carbon footprint by 528 tons.
"The MCOE is part of the continuing transformation of our campus and the building design demonstrates our continuing commitment to environmental stewardship," said Academy Superintendent, Rear Adm. Bill Kelly. "We look forward to working with Eversource again, helping us to create another facility that will better develop and support our future officers."
Recent Eversource projects on campus have delivered improvements in infrastructure, energy efficiency, resiliency, and sustainability, helping to make the new MCOE project possible. The modernized high-efficiency natural gas plant and chilled water system provide the capacity and accessibility necessary to integrate natural gas and chilled water into the new building design.
The construction of the MCOE is sponsored by the United States Coast Guard Academy Alumni Association.
Eversource (NYSE: ES), celebrated as a national leader for its corporate citizenship, is the #1 energy company in Newsweek's list of America's Most Responsible Companies for 2021 and recognized as one of America's Most JUST Companies. Eversource transmits and delivers electricity to 1.27 million customers in 149 cities and towns, provides natural gas to 246,000 customers in 74 communities, and supplies water to approximately 216,000 customers in 52 communities across Connecticut. Eversource harnesses the commitment of approximately 9,300 employees across three states to build a single, united company around the mission of safely delivering reliable energy and water with superior customer service. The #1 energy efficiency provider in the nation, the company is empowering a clean energy future in the Northeast, with nationally-recognized energy efficiency solutions and successful programs to integrate new clean energy resources like solar, offshore wind, electric vehicles and battery storage, into the electric system. For more information, please visit eversource.com, and follow us on Twitter, Facebook, Instagram, and LinkedIn. For more information on our water services, visit aquarionwater.com.
MEDIA CONTACTS:
Eversource:
Tricia Taskey Modifica
860-665-4605
tricia.modifica@eversource.com
Mitch Gross
860-665-5221
mitch.gross@eversource.com
U.S. Coast Guard Academy:
Krystyn Pecora, CDR, USCG
860-701-6540
Krystyn.e.pecora@uscg.mil