Information on this page is for customers in
Our Conservation Commitment and History

Open-space land is central to the region's character and appeal.
Conserving Open Space
Over a century ago, company founders foresaw the need for safe, reliable electrical and natural gas distribution infrastructure to power the region.
To that end, they acquired selective tracts of land to hold in reserve for generation and gas and electric distribution and transmission.
Long before the infrastructure was developed, Eversource's land holdings throughout New England were esteemed for their natural beauty and important role in the region's open space portfolio.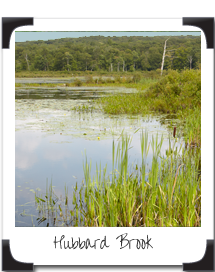 Our ongoing ownership has enabled key parcels to remain in their natural state as undeveloped lands even while adjoining properties have yielded to development.
Eversource believes the conservation of open space land is central to the region's character and appeal and is committed to:
Balancing our corporate operating requirements with natural resource conservation;
Demonstrating through our vision, core values, and social responsibility the highest regard for environmental stewardship;
Mitigating project environmental impacts with state of the art preservation techniques;
Advancing and complementing local, state and regional open space plans; and
Promoting public recreation and educational activities.
In 2004, Eversource committed to protect its important open space lands with a Memorandum of Understanding (MOU) between Eversource and the Connecticut Department of Environmental Protection (CT DEEP).
Working with CT DEEP, municipalities and conservation groups, a "Conservation List" of properties was developed consisting of approximately 400 land parcels and 10,000 acres spanning the forests and scenic landscapes of Connecticut.
The agreement gave the CT DEP (now called the Connecticut Department of Energy and Environmental Protection, or DEEP) municipalities, and conservation organizations a right of first refusal to purchase any of the lands should they ever be offered for sale.