Information on this page is for customers in
Acushnet to New Bedford Line 142/143 Maintenance Project
Why Are We Doing This Project?
To improve system reliability, Eversource is proposing a maintenance project to upgrade 115-kilovolt (kV) transmission lines from Acushnet to New Bedford.
Where Is This Work Being Done?
The proposed transmission line maintenance project will extend 4.2 miles from the Acushnet Substation in Acushnet, crossing the Acushnet River, and through the city of New Bedford to the Pine Street Substation.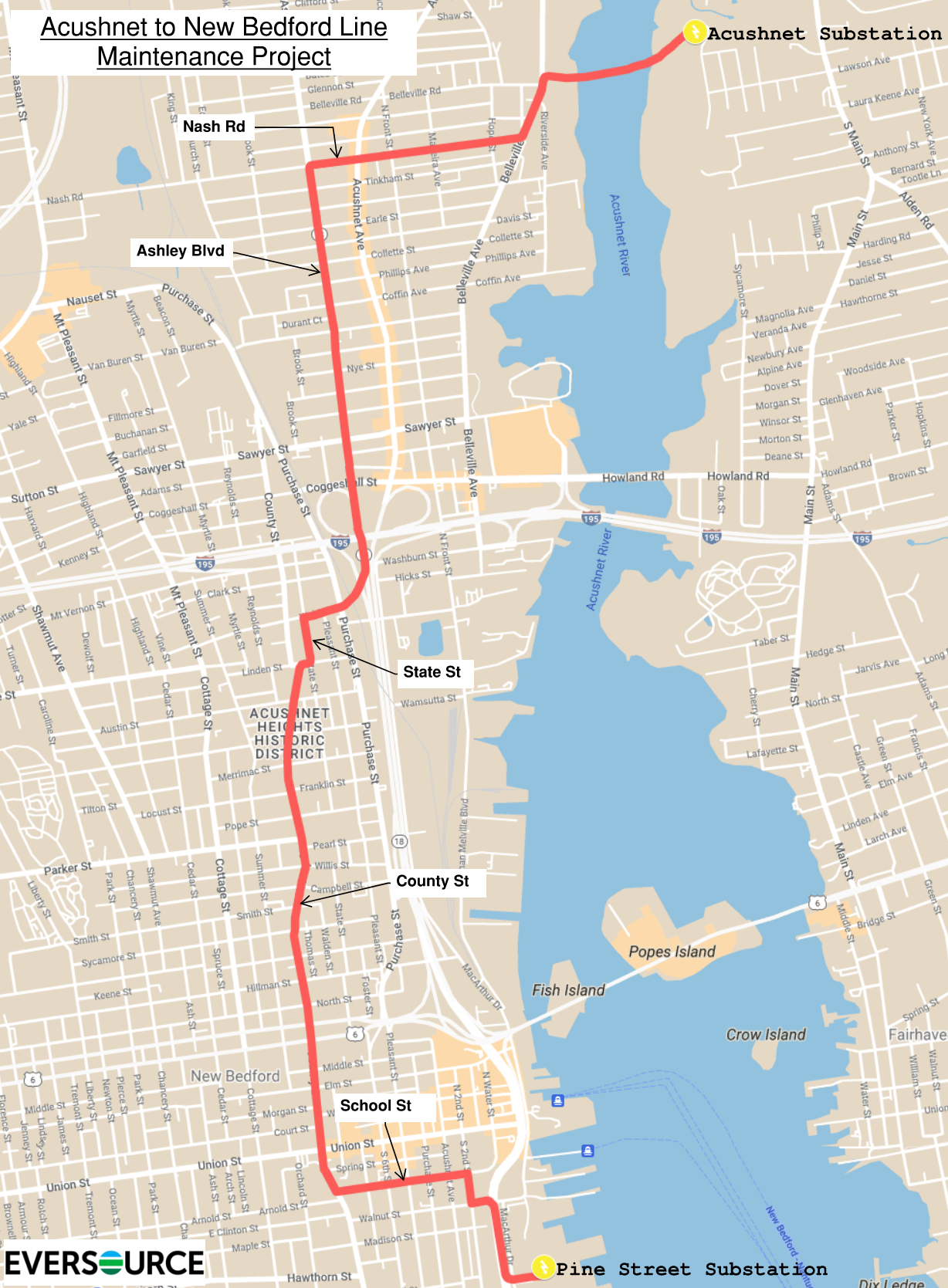 * Click to Enlarge
When Is The Work Being Done?
File Siting Petition with the DPU: 2022
Anticipated Decision from the DPU: 2024
Start of Construction: 2024
*(subject to change, pending necessary approvals)
About This Project
Route Length: 4.2 miles
Town/City: Acushnet and New Bedford, MA.
Line Voltage: 115,000-volt (115-kV) underground transmission line
Siting Review: Department of Public Utilities (DPU)
Public Open House: Held on November 1, 2022
Department of Public Utilities
To conduct maintenance on the underground transmission line, Eversource will file a petition with the Massachusetts DPU for approval. The petition filing is part of the regulatory review process, as defined by Massachusetts state statutes.
Public Outreach
Eversource is engaging town and city officials, residents, businesses, community groups, and other stakeholders via municipal briefings, open houses, mailings, and meetings to answer questions and listen to concerns. As the proposed project proceeds through the siting and permitting process, we will keep you informed.
Have Questions?

Keeping the lines of communication open is an important part of our work in your community.
For more information about this project, please call the project information hotline at 1-833-836-0302 or email ProjectInfoMA@eversource.com.