Information on this page is for customers in
Recognized As One of America's "Most JUST" Companies
In recognition of its unyielding commitment to customers, communities, employees, and the environment, Eversource is being nationally celebrated as one of America's Most JUST Companies for 2021 according to Forbes and JUST Capital.
For the second year in a row, Eversource was ranked in the annual top-100 list – one of only a handful of utilities to earn this honor.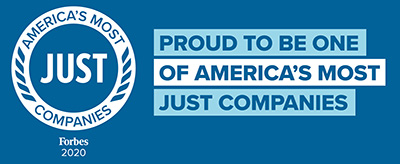 The JUST 100 celebrates publicly-traded American corporations for their positive impact and leadership on top priorities identified by the American people such as fair pay, ethical leadership, good benefits and work-life balance,equal opportunity, customer treatment and privacy, community support, environmental impact, and delivering shareholder return.

It is widely considered a leading recognition of corporate citizenship, and the companies selected exemplify that corporate responsibility and financial success go hand-in-hand.
The JUST Capital Rankings evaluate the 1,000 largest publicly traded U.S. companies on a range of factors determined through a comprehensive survey process on public attitudes toward corporate behavior.
Both the JUST 100 – the top 100 companies in the JUST Rankings – and Industry Leaders lists, which break down companies' relative rank within their respective industry verticals, will be featured in the November issue of Forbes.
Additional stories are available on the Forbes website. Also, a comprehensive interactive ranking and benchmarking platform can be viewed on JUST Capital's website.

All of America's Most JUST Companies will be included in Goldman Sachs Asset Management's JUST U.S. Large Cap Equity ETF (Ticker: JUST) – the first-ever exchange-traded fund based on just business behavior, constructed from JUST Capital's annual rankings.