Information on this page is for customers in
Excess Flow Valves
Learn how excess flow valves (EFV) help stop the flow of natural gas in the event of an emergency.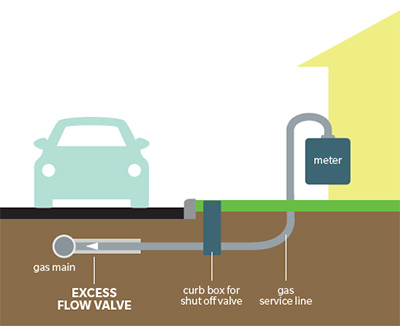 In keeping with a new federal regulation, Eversource wants you to know about your right to request the installation of an Excess Flow Valve (EFV) on your existing natural gas service line.
An EFV is a mechanical safety device installed in a natural gas service line between the natural gas main and the natural gas meter. EFVs minimize or stop the flow of natural gas in the event of a service line break. EFVs do not stop the flow of gas for any leaks or faulty equipment on the customer's side of the gas meter.
If you or an excavator accidentally digs up the natural gas service line and severs the line, the EFV will automatically minimize or stop the flow of natural gas. For your safety, always call 811 before you dig whenever you or a contractor plan to dig near your service line.
Many customers already have an EFV installed in their existing natural gas service line. However, EFVs will not work properly on all natural gas services, which means not all customers qualify for an EFV. Eversource can determine if an EFV is right for your property based on the amount of gas it requires, the pressure of the natural gas system and other technical factors (see below).
Learn more about calling 811 before you dig
Cost and Installation
For those customers who would like to have an EFV installed, there is a customer cost for the installation. The Connecticut Public Utilities Regulatory Authority (PURA) approved the customer installation costs below, which outline the cost for Eversource to install an EFV. Customers who desire an EFV are responsible for the installation and any future maintenance or replacement costs.
Eversource will work with those customers requesting to install an EFV in order to set up a mutually agreeable installation date. Installation requires Call Before You Dig notification and excavation where the existing gas service line connects to the gas distribution main.
Gas service must be interrupted in order for Eversource to safely complete the installation. We will then relight all gas appliances.
Category 1 - $2,300 each for a simple residential installation not on an arterial street, state highway or concrete-based road.
Category 2 - $3,400 each for an installation on an arterial street (commercial or residential).
Category 3 - $6,200 each for installation on a state road or concrete-based street (commercial or residential).
Request an EFV
Eversource is pleased to answer any questions you have about installing an EFV at your property. If you are interested in an EFV or are wondering if you currently have an EFV on your natural gas service, please contact us at 844-417-0252 or excessflow1@eversource.com.
Technical factors preventing the installation of an EFV
The service line does not operate at a pressure of 10psig or greater throughout the year

Eversource has prior experience with contaminants in the gas stream that could interfere with the EFV's operation or cause loss of service

There is potential for interference with necessary system operation or maintenance activities

An EFV meeting the performance standards set forth in federal regulations is not commercially available to the company