Information on this page is for customers in
Power Restoration Mutual Aid
During routine outage events, we use our own crews or contractors to restore power. However, in the event of a major storm, the task of restoration can be so large that outside help is needed. In this case, we request mutual aid.
How Does Mutual Aid Work?
In preparation for emergencies, electric companies have mutual assistance agreements with each other that allow them to temporarily increase their workforce by requesting crews to help respond to major outage events. This usually occurs during significant storms.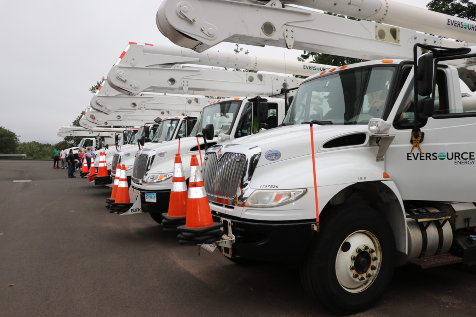 Mutual aid requests work through a network of utilities in the United States and Canada. This network is a critical part of storm response. When called upon, a company sends skilled restoration workers—both company employees and contractors—along with specialized equipment to help speed restoration.
Why Mutual Aid?
Deploying restoration workers from other companies helps:
Scale up the number of crews efficiently and effectively
Restore power faster
Companies maintain an appropriate amount of crews during normal operations, knowing they can ask for help only when it's needed
Supporting Other Utilities
Eversource and our legacy companies in Connecticut, Massachusetts and New Hampshire have a long history of providing mutual aid assistance to utilities up and down the East Coast, in Canada and Puerto Rico. We're proud to provide support in times of need and have been recognized six times with an Emergency Assistance Award from the Edison Electric Institute (EEI).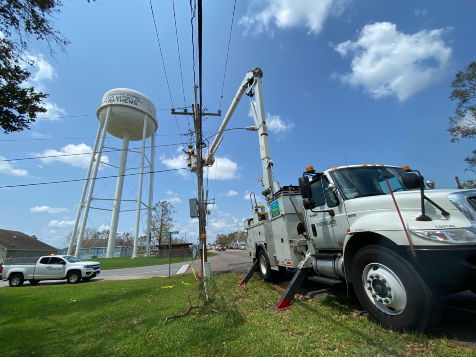 When supporting mutual aid efforts, we always keep sufficient numbers of crews in our service territory to respond to any local issues that may arise.
Our crews have answered the call and supported countless restoration efforts, including historic storms like:
2021: Hurricane Ida, assisting Entergy in Louisiana
2017: Hurricane Irma*, assisting Florida Power & Light
2014: Assisting utilities in New York, Pennsylvania and Maine during a harsh winter* that included a severe ice storm.
2012: Hurricane Sandy*, assisting Con Edison, Long Island Power Authority and Jersey Central Power and Light
2008: Hurricane Gustav, assisting Entergy in Louisiana, Mississippi and Arkansas.
2008: Hurricane Ike*, assisting four utilities in Ohio and New York
2005: Hurricane Katrina, assisting Mississippi Power
2005: Hurricane Dennis, assisting Gulf Power in Florida.
2005: Hurricane Wilma, assisting Florida Power & Light
2004: Hurricane Jeanne and Frances, assisting Florida Light &Power
2004: Hurricane Ivan, assisting Gulf Power in Florida
2003: Hurricane Isabel*, assisting utilities in Maryland and Washington, D.C.
1998: Hurricane Georges*, assisting utilities in Puerto Rico
1998: Ice storm, assisting Canadian utilities in province of Ontario
*Won EEI Emergency Assistance Award