Information on this page is for customers in
New Hampton to Holderness (E115) Line Rebuild Project
Why Are We Doing This Project?
Recent inspections and engineering analysis of the E115 and E115 Tap transmission lines revealed that many of the structures are in poor condition due to their age, woodpecker damage, insect damage and pole rot.
A total of 173 wooden H-frame structures are being replaced with weathering steel H-frame structures. Two additional wooden H-frame structures are being removed without a replacement. In addition, the conductor (wire) is being replaced, and fiber optic cable, known as Optical Ground Wire (OPGW), is being installed the entire length of the corridor.
Improvements are part of our ongoing investments to deliver reliable energy to our customers and communities.
Where Is The Work Being Done?
This work is taking place within two of Eversource's existing rights-of-way (power line corridor). The E115 Line is a 115-kilovolt (kV) transmission line built in 1964 that is 15.4 miles long. This line starts at the Pemigewasset Substation in New Hampton and terminates at the Huckins Hill Substation in Holderness.

The E115 Tap is a 115kV transmission line built in 1964 that is 0.5 miles long. This line starts at Ashland Substation in Ashland and connects to the E115 transmission line on the western side of I-93 in Ashland.
See the project plans. (This map set is currently in draft form and is subject to change due to permitting, constructability and other considerations.)

These transmission lines cross the following roads in New Hampton, Bristol, Bridgewater, Ashland and Holderness: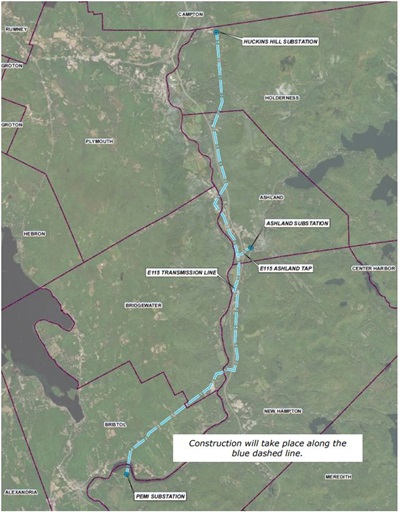 Bristol
Route 104 (Summer Street), Peaked Hill Road, Schaefer Road

Bridgewater
Abel Road, River Road, Daniel Webster Highway (Route 3), Siding Road

New Hampton
Route 132, Huckleberry Road

Ashland
Collins Street (and access to the transfer station, for the E115-Tap), N. Ashland Road

Holderness
Route 175, Trivett Lane (end of road in ROW), Hob Nob Lane (end of road in ROW), Mt. Prospect Road, Huckins Hill Road
When Is The Work Being Done?
Local permitting: First and second quarter 2022
State permitting: First-third quarter 2022
Federal permitting: Third quarter 2022
Construction start date: August 2022
Projected in-service date: 2023 (anticipated)
Restoration completion: First quarter 2024 (earlier, where possible)
Construction Updates
See our construction fact sheet for more information about activities occurring in your neighborhood.
The photo below was taken near Shaefer Road in Bristol, showing the building of access roads between structures.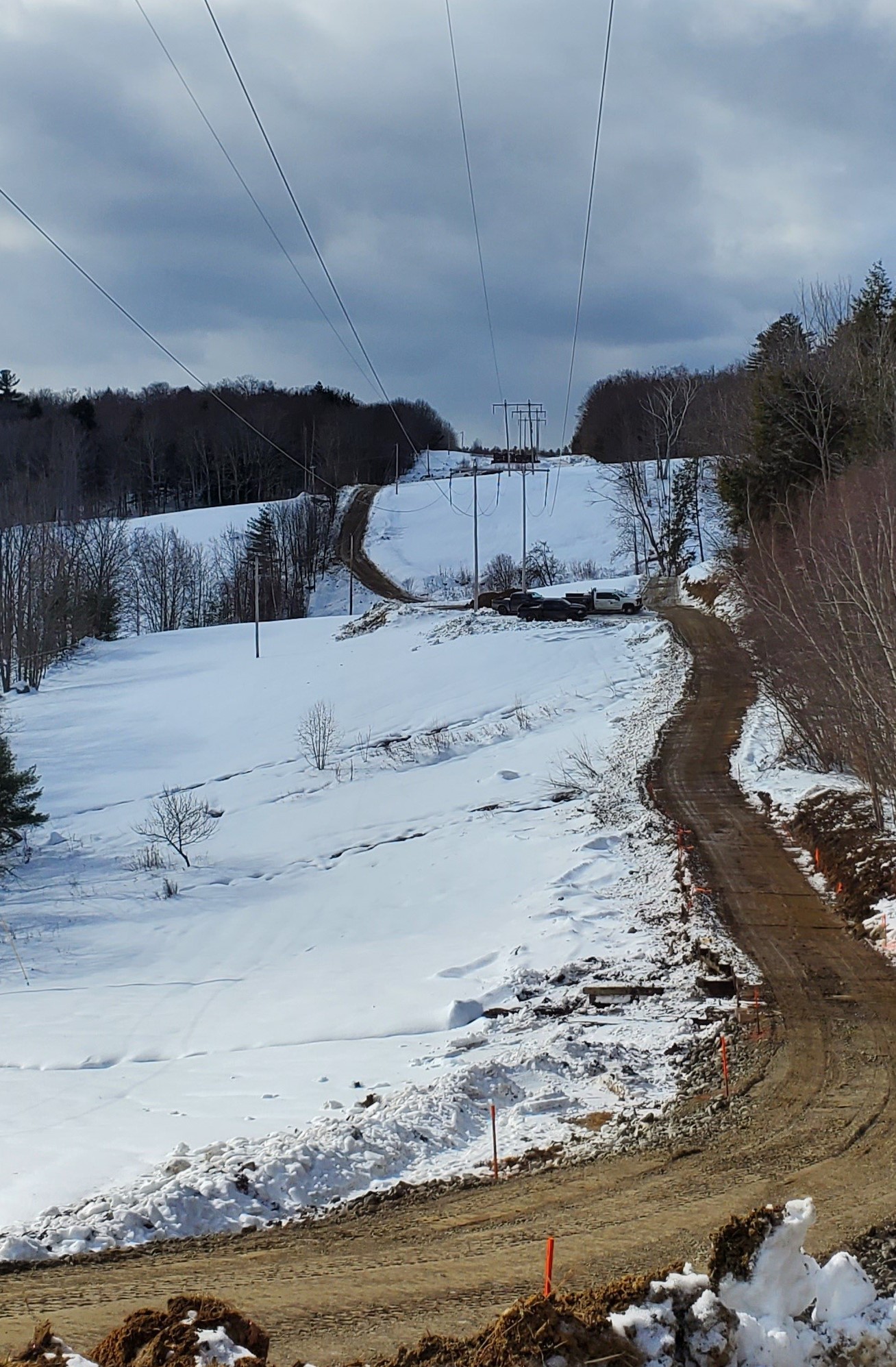 Week of March 13, 2023
Removing Temporary Arms at Structures:
95-115 – Collins Street, Ashland; Route 3, Bridgewater
Work Area Preparation at Structures:
5-10, 14 – Route 104, Bristol
Deliver Steel Structures:
57-69 – Route 132, New Hampton
Drilling at Structures:
Week of March 20, 2023
Installing New Structures:
42-45 – Abel Road, Bridgewater
78, 79, 81 – Route 132, New Hampton
Work Area Preparation at Structures:
11, 14 – Route 104, Bristol
Deliver Steel Structures:
46-47 – River Road, Bridgewater
48-49, 51 – Route 132, New Hampton
52-56 – Route 132, New Hampton
Drilling at Structures:
13-16 – Route 104, Bristol
This schedule is approximate and subject to change. If there are major changes to the schedule above, updates will be provided as soon as possible.
Community Outreach
We're committed to engaging municipal officials, residents, businesses, community groups and other stakeholders about upcoming project activities through municipal briefings, mailings, site meetings, virtual meetings and door-to-door outreach, while adhering to COVID-19 social distancing and other related health and safety guidelines.
We utilize a variety of outreach methods to ensure that all customers and property owners along our transmission lines receive adequate and timely information about our projects. For this Project, we will be sending periodic updates as letters mailed directly to all stakeholders, as well as a combination of the following additional methods:
Door-to-door outreach
Site visits (upon request)
Virtual meetings (upon request)
Signage placed strategically near construction areas or in residential areas
Regular field presence to ensure the safety of our customers, nearby property owners, and our construction crews
Commitment to Safety
We take every safety precaution while working in local communities, and all people working on the construction project carry identification. The project work will not interrupt electric service to homes or businesses.
We remain committed to prioritizing public health as well as the health of employees and contractors during COVID-19. All Eversource personnel follow applicable health and safety guidelines to help prevent the spread of COVID-19.
Have Questions?
Keeping the lines of communication open is an important part of our work in your community.
For questions or more information about the project, please contact us at 888-926-5334 or NHProjectsInfo@eversource.com.