Information on this page is for customers in
Nashua Millyard Substation Rebuild Project
Why Are We Doing This Project?
The Nashua Millyard Substation is a distribution substation that serves businesses along Pine Street and parts of downtown. The electrical equipment is now obsolete, after almost 70 years in service, and the substation is currently being rebuilt.
This distribution substation is important to the downtown Nashua area because it intakes power at 34.5kV (kilovolts) and reduces it to 4.16kV. At that reduced voltage, the power then enters the roadside distribution system to power individual homes and businesses.
Many of the existing circuits (wires) entering and exiting the substation will also be rebuilt and/or relocated along with the new substation.
Where Is The Work Being Done?
We worked with city officials over the last several years to complete a land swap, which allows the new substation to be built immediately north of the existing substation.
The substation (old and new) is located off Technology Way in Nashua, New Hampshire. The associated lines are located along and around Spine Road and Technology Way.
The lines will remain on the east side of the Nashua River within a series of new or updated easements recently secured from private property owners. This line work will happen concurrently with the rebuilding of the substation.
The old substation will be deconstructed when the work is complete and after the new substation is in-service. Once the old substation has been deconstructed, the land will be restored, and the property will be transferred from Eversource to the City of Nashua.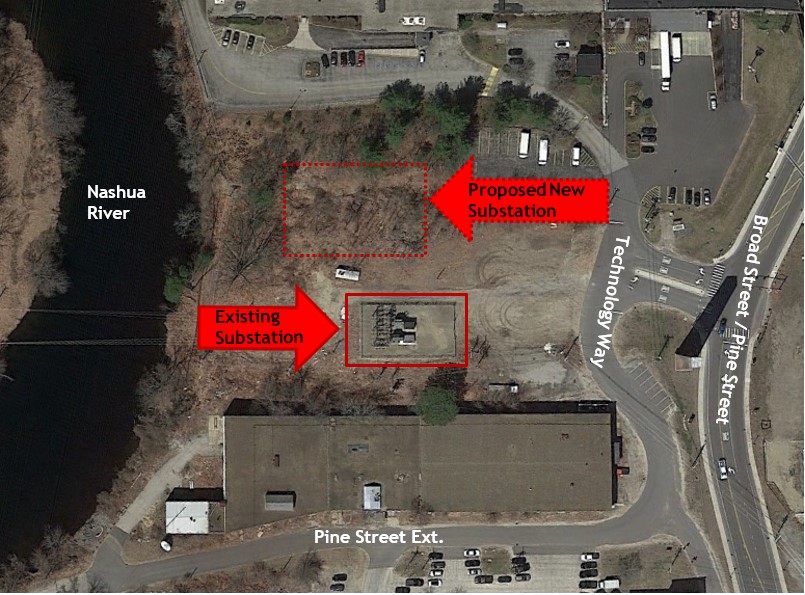 When Is The Work Being Done?
Permitting, siting, engineering: Fall 2018 – Summer 2021 (complete)
Environmental clean-Up: May 2021 (complete)
Site preparation start: September 13, 2021 (complete)
New substation construction: September 2021 – Summer 2022
Circuit (line) construction: January – Summer 2022
New substation in-service date: Summer-Fall 2022
Old substation removal: Fall 2022 - Winter 2023
Final restoration: Fall 2022 - Spring 2023
Construction Updates
Updates will be added when available.
For your safety, please remember to keep out of the construction areas at all times.
More details are available in the project fact sheet.
Community Outreach
We're committed to engaging municipal officials, residents, businesses, community groups and other stakeholders about upcoming project activities through municipal briefings, mailings, site meetings, virtual meetings and door-to-door outreach, while adhering to COVID-19 social distancing and other related health and safety guidelines.
We utilize a variety of outreach methods to ensure that all customers and property owners near our substation and along our power lines receive adequate and timely information about our projects. For this project, we will be sending periodic updates as letters mailed directly to all stakeholders (read the most recent update letter), as well as a combination of the following additional methods:
Door-to-door outreach
Site visits (upon request)
Virtual meetings (upon request)
Signage placed strategically near construction areas or in residential areas
Regular field presence to ensure the safety of our customers, nearby property owners, and our construction crews
Commitment to Safety
We take every safety precaution while working in local communities, and all people working on the construction project carry identification. The project work will not interrupt electric service to homes or businesses.
We remain committed to prioritizing public health as well as the health of employees and contractors during COVID-19. All Eversource personnel follow applicable health and safety guidelines to help prevent the spread of COVID-19.
Have Questions?
Keeping the lines of communication open is an important part of our work in your community.
For questions or more information about the project, please contact us at 888-926-5334 or NHProjectsInfo@eversource.com.