Information on this page is for customers in
West Roxbury to Needham Reliability Project
Why Are We Doing This Project?
This project will improve the transmission system in the Boston area so customers will have reliable power to meet their growing energy needs.
Where Is The Work Being Done?
Our crews are working to separate the overhead transmission lines on existing double-circuit towers on the right of way (power line corridor) between substations in the Boston neighborhood of West Roxbury and Needham.
The project route crosses about 4.5 miles between the Baker Street Substation in West Roxbury and the Needham Substation in Needham. The separation work involves relocating 1.6 miles of the line onto new sets of structures on the rights of way in Boston, Dedham and Needham.
In Needham, the newly separated line exits the overhead right of way on Valley Road and transitions to underground. The underground line will then extend about 3 miles from Valley Road to Needham Substation.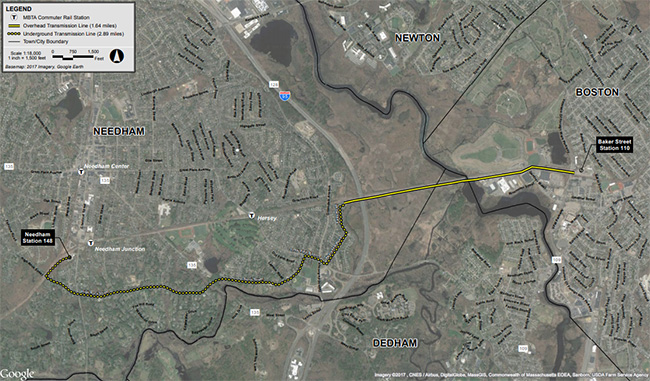 * Click to enlarge
Traffic Management Plans
Working in consultation with town and state officials, including the Mass. Department of Transportation (MassDOT), Eversource has developed a set of Traffic Management Plans (TMPs) for each section of the West Roxbury to Needham Reliability Project.
The TMPs include conditions specific to routing as made by the EFSB in its final decision. The TMPs illustrate detailed site plans, showing underground line locations, hours of construction, area-specific traffic controls, and more.
Please note, TMPs are subject to change and may be updated.
When Is The Work Being Done?
Petition filing: June 2016
Petition approval by the EFSB: May 17, 2018
Start of construction: June 2018
Project in-service date: March 27, 2021
About this project
Route length: Approximately 4.5 miles
Line voltage: 115,000-volt (115-kV) overhead and underground transmission line
Siting review by: Energy Facilities Siting Board (EFSB)
Construction Updates
We take every safety precaution while working in local communities, and all people working on the construction project carry identification.
Project work will not interrupt electric service to homes or businesses.
Work hours during construction will typically be 7 a.m. to 5 p.m., Monday through Friday, and 9 a.m. to 5 p.m. on Saturdays in non-residential areas. During the school year, work requiring detours along a school bus route will not start until 9 a.m., unless authorized by the municipality. Due to unexpected weather or other circumstances, the work hours may be extended or performed on a Sunday.
Police officers will be stationed at every major intersection where construction is taking place.
Boston | West Roxbury
No work scheduled at this time.
Dedham
No work scheduled at this time.
Needham
No work scheduled at this time.
Energy Facilities Siting Board (EFSB)
The Massachusetts EFSB Petition filing is part of the siting regulatory review process for a project like this one, as defined by Massachusetts state statutes.
On May 17, 2018, Eversource received approval from the EFSB to construct the West Roxbury to Needham Reliability Project. See the EFSB 16-02 Final Decision 5-17-18.
Community Outreach
We're committed to engaging city officials, residents, businesses, community groups and other stakeholders about project activities through municipal briefings, mailings, virtual meetings and door-to-door outreach, while adhering to COVID-19 social distancing and other related health and safety guidelines.
Have Questions?

Keeping the lines of communication open is an important part of our work in your community.
For more information about this project, please call the project information hotline at 1-833-836-0302 or email ProjectInfoMA@eversource.com.